SEE WHAT USERS HAVE TO SAY
"I've used various marketing and project management tools throughout my career, but Hubspot is the best tool I've worked with. There's no way I can go back to other tools now. 100% worth the investment.""HubSpot is easy to implement and user-friendly, and it makes complying with GDPR much easier. We use Marketing Professional for blog/news, email marketing, automation, social media, marketing attribution/reporting, email design, list management/segmentation, and light project management. Also, use ServiceHub for customer success ticketing process, feedback surveys, NPS, and chatbots. Integrated with Salesforce. Amazingly easy to implement, even if you're migrating from another MA tool. They are always releasing product updates, and their customer support is the best!!""Using Hubspot has saved me a lot of time and energy and made it possible to focus on more of my creative work. We love all the features, and the support is fantastic."
WHO SHOULD USE HUBSPOT?
Hubspot Projects is a project management tool designed for teams looking to improve their project management processes and streamline collaboration. It is suitable for a range of teams, including marketing, sales, project management, creative, customer service, and small businesses. Marketing teams can use it to plan and execute marketing campaigns, track content creation, and manage social media. Sales teams can manage their sales pipeline, track deal progress, and collaborate with other teams. Project management teams can track project timelines, assign tasks, and collaborate with stakeholders. Those who are in the Creatives industry can also use Hubspot Projects to manage design and development projects, track progress, and collaborate with clients. Are you in Customer Care? You and your team will find Hubspot beneficial in managing customer support requests, tracking progress, and collaborating with other teams. Overall, Hubspot Projects is a versatile tool that can be used by a wide range of teams across different industries and functions to improve their project management processes and increase efficiency.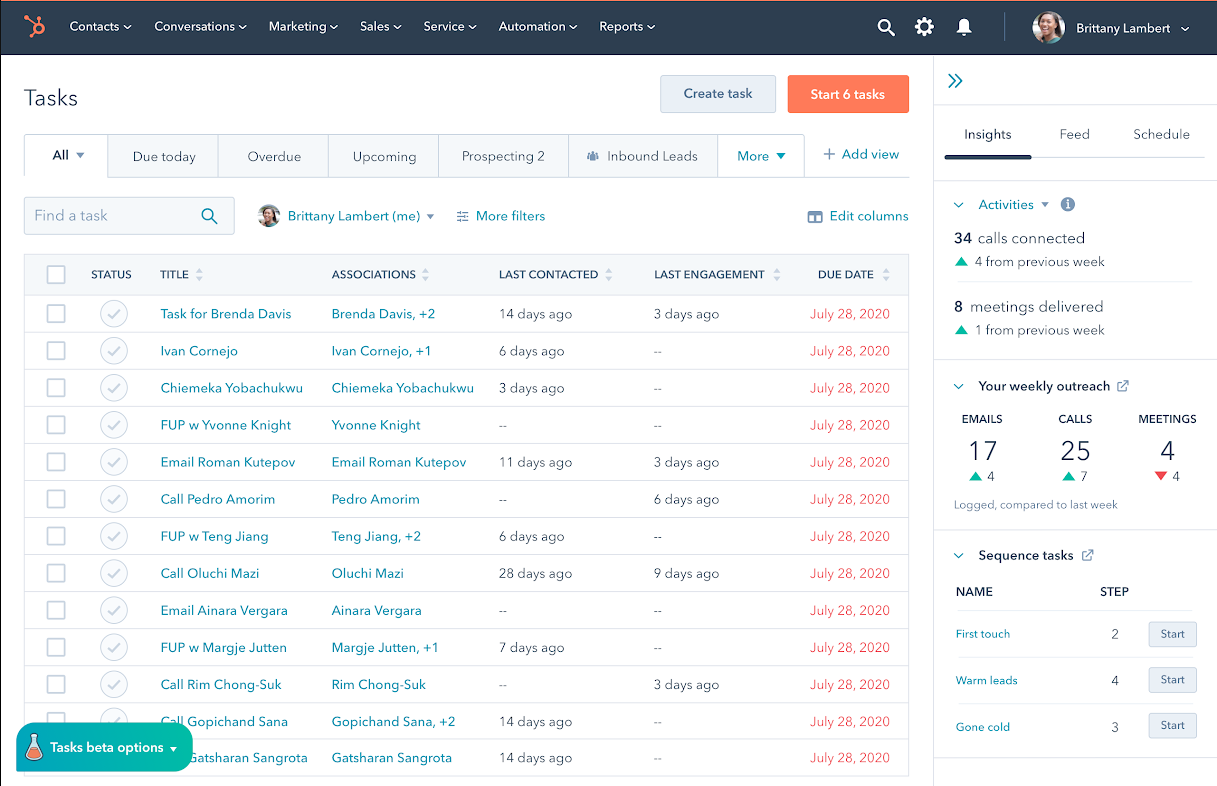 WHAT ARE THE FEATURES?
While HubSpot is primarily known as a leading customer relationship management (CRM) platform, it does offer some features that can be used for project management purposes. All of these tools are inside a hub called Projects. This hub is designed to help you create, organize, and manage tasks within the HubSpot CRM, so you can keep track of your work and collaborate with your team members seamlessly. Some of the key features of HubSpot Projects include:
Task Creation: Tasks can be easily created and assigned to team members. You can add due dates and descriptions and associate them with contacts, companies, or deals in the CRM. To provide additional context, you can also include task notes, attachments, and comments.


Task Organization: This lets you organize your tasks into projects, which are really just long lists of tasks. By making projects, you can group tasks that are similar together and keep your work organized. You can give projects to specific people on your team, add due dates and descriptions and make sure tasks are done on time.


Task Tracking: The dashboard view allows you to keep tabs on all of your projects and tasks with ease. You can quickly see what's overdue, what's coming up, and what's been completed by filtering tasks by status, due date, or team member. If you want to make sure that everything gets done on time and that your project succeeds, use the Task Tracking feature.


Task Notifications: This feature keeps you informed about your tasks and deadlines by sending you timely notifications when tasks are assigned to you or when they are due. This helps you effectively manage your tasks so that you can complete high-quality work within the allotted time frames and ensures that you don't miss any important deadlines.


Collaboration: Work together on projects with your team members. To discuss task details, updates, and progress, you can easily leave comments on tasks, attach files, and communicate with one another. You can collaborate with your team members more easily thanks to the Collaboration feature, which makes sure that everyone is on the same page and that tasks are finished quickly and effectively.


Integration with HubSpot CRM: Take advantage of HubSpot CRM's integration by linking tasks to individuals, businesses, or deals in the CRM. With this function, you can keep tabs on everything that needs to be done in relation to a given CRM record, and you can make sure that everything is coordinated with the larger sales, marketing, and support initiatives. When you combine HubSpot Projects with HubSpot CRM, you can streamline your operations and keep everyone in the loop.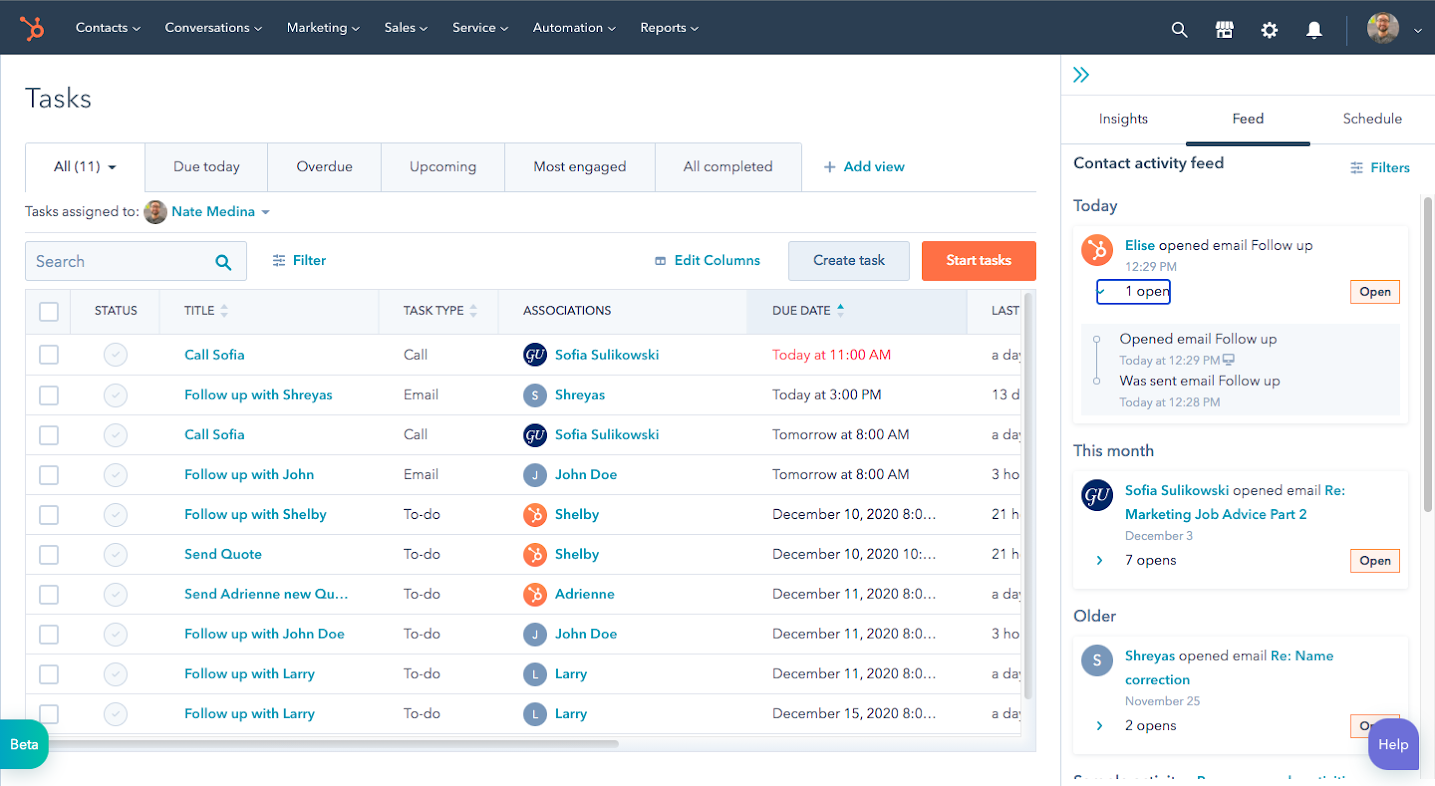 IS IT EASY TO USE?

We found Hubspot to be especially user-friendly because of its clean interface, thoughtful features, and wealth of available training resources. Its user interface is uncluttered, allowing you to find the needed features in a jiffy. We also love how simple it is to create and release new advertising campaigns thanks to its intuitive layout. Sales processes can be easily managed, and interactions with customers can be tracked. Hubspot's extensive onboarding and training resources, such as video tutorials, webinars, and certification programs, complement its user-friendly interface and allow you to get up and running in no time. As a whole, Hubspot's user-friendly interface, robust set of features, and comprehensive training materials combine to make it a powerful platform for businesses of all sizes.


USER INTERFACE

You'll find Hubspot Projects to have an interface that is simple and easy to learn, allowing you to manage your projects and workflows more efficiently. The design is intuitive, ensuring that you'll be able to navigate through the system smoothly. Some features of Hubspot's project management interface include:

1. Project Board: The project board displays all of the projects in a visually appealing and easy-to-use format. Here's where you can easily create new projects, view project details, and drag and drop tasks between columns.

2. Task Management: Here, you can create and assign tasks, set due dates, and track progress for each task. The task management feature allows users to easily collaborate with team members, set priorities, and monitor progress.

3. Collaborative Workspace: The platform provides a collaborative workspace where team members can share files, communicate, and collaborate on tasks in real-time.

4. Customizable Dashboards: Hubspot Projects allows users to customize their dashboards to suit their needs. You can choose the metrics you want to track, such as project progress, task completion rates, and team productivity.

5. Reporting and Analytics: The platform offers reporting and analytics features that allow users to track their progress, measure their performance, and identify areas for improvement.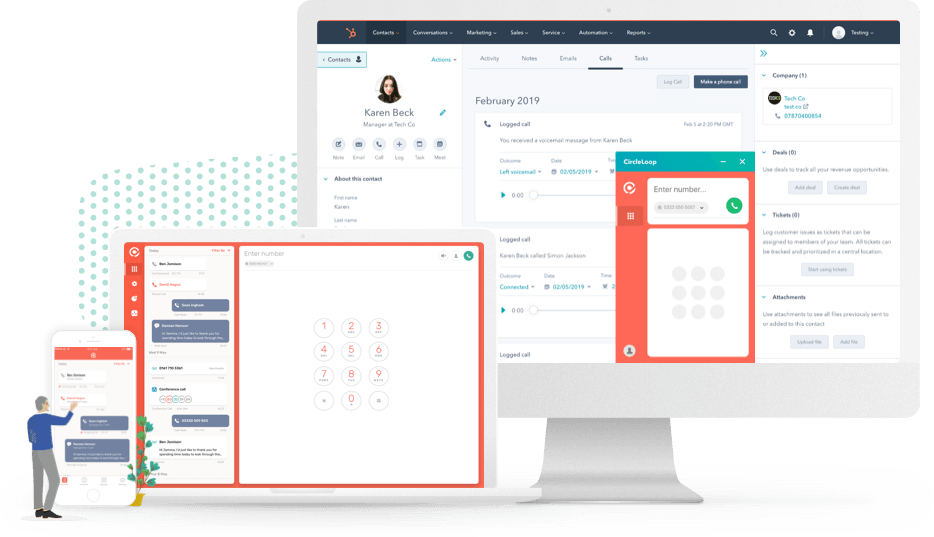 DESKTOP AND MOBILE APPS

You can enjoy access to your project management tasks and workflows on-the-go by using Hubspot Projects' desktop and mobile apps. The desktop app is especially useful as it allows you to manage your projects even when you're offline and sends you real-time notifications whenever new tasks are assigned or completed. You'll find the desktop app easy to navigate, and it seamlessly integrates with other Hubspot tools such as Marketing, Sales, and Service Hub, permitting you to manage your entire business from a single platform. With this capability at hand, you'll be more productive and better equipped to stay on top of your business's progress wherever you go.


IS IT SAFE AND SECURE?

Hubspot places a premium on user privacy and data security. They've taken lots of measures to protect user data security. One of the safeguards they've put in place is encryption, which works both in transit and at rest to keep information safe. Hubspot uses SSL/TLS to encrypt all data sent between the user's device and the service, and they also encrypt all data while it's stored on their servers.

Another measure that Hubspot has implemented is access controls. They have implemented strict access controls to ensure that only authorized individuals have access to customers' data. Hubspot employees only have access to customer data on a need-to-know basis, and access is closely monitored and audited.

Hubspot also uses highly secure data centers that are compliant with industry standards and regulations, such as SOC 2 and ISO 27001. These data centers have various physical security measures in place, such as biometric access controls, security cameras, and 24/7 security personnel.

Hubspot is also compliant with various data privacy regulations, such as GDPR, CCPA, and HIPAA. They have a robust privacy policy that outlines how they collect, use, and protect customers' data.

In addition to the measures mentioned above, Hubspot employs a team of security experts who continuously monitor for vulnerabilities and threats. They conduct regular vulnerability assessments and penetration testing to identify and remediate any security weaknesses.


HOW MUCH IS IT?

Hubspot tailors its pricing tiers to the different features and functionality that you may need, offering a range of plans that suit your requirements. Depending on your needs, you can choose from various pricing packages. Here's an overview of the plans and pricing for Hubspot Projects.

1. Free Plan: Hubspot offers a free plan for their Projects tool. This plan includes basic project management features such as tasks, boards, and dashboards. You'll also get up to 3 reporting dashboards, 5 email templates, 1 shared inbox, and up to 200 email notifications per month. The free plan allows up to 5 users and 1 GB of storage.

2. Starter Plan: The Starter plan costs $18/month (billed annually) and includes all the features in the Free plan, plus additional features such as custom fields, automation, and time tracking. This plan also includes up to 10 users and 1 GB of storage.

3. Professional Plan: The Professional plan costs $75/month (billed annually) and includes all the features in the Starter plan, plus additional features such as custom reporting, task dependencies, and project templates. This plan also includes up to 20 users and 5 GB of storage.

4. Enterprise Plan: The Enterprise plan costs $150/month (billed annually) and includes all the features in the Professional plan, plus additional features such as advanced reporting, custom user roles, and a dedicated account manager. This plan also includes up to 50 users and 10 GB of storage.

It's worth noting that Hubspot also offers a wide range of other tools, including Marketing, Sales, and Service Hubs, which can be bundled with Projects at a discounted rate. Additionally, there is a 20% discount for non-profits and educational institutions.


IS THERE A FREE VERSION?

Yes, Hubspot Project Management does have a free version. The free version includes basic project management features such as tasks, boards, and dashboards. It also includes up to 5 users and 1 GB of storage.

While the free version may not have all the advanced features that the paid plans offer, it can still be a useful tool for small businesses or teams with limited project management needs. It can help users stay organized, collaborate with their teams, and track progress on their projects.


CUSTOMER SUPPORT

Hubspot provides a range of customer support options to its users. They offer a comprehensive knowledge base, an active user community, email and chat support, and phone support for their paid plan users. The knowledge base covers a wide range of topics and includes articles, guides, and videos on how to use the software. The user community is a great place to ask questions, share tips, and connect with other Hubspot users. Users can also reach out to the support team directly via email or chat to get help with any issues or questions they may have. Additionally, Hubspot provides a range of resources, including webinars, training courses, and certifications, to help users develop their skills in digital marketing and sales. In general, Hubspot's customer support is known for being responsive and helpful, providing users with a range of options to get the help they need.


BOTTOMLINE

If you're looking for a comprehensive platform that combines multiple tools into one user-friendly interface, HubSpot might be what you're looking for. Alongside numerous tools, this platform also offers a simple project management solution called HubSpot Projects. Unlike other purpose-built software, we like that it focuses only on the essential tools of task creation, team member assignments, project management, and project templates. Another plus point for HubSpot is its user-friendly interface, which makes it easy to set up your account, upload data, and create tasks, forms, reports, and dashboards. Overall, Hubspot gives you everything you need to get the job done without any of the fluff.