SHORT ON TIME? HERE'S A QUICK SUMMARY
Despite its higher price point, ExpressVPN has millions of users worldwide. It delivers ultra-fast and secure connections in a user-friendly interface and can be used from just about any platform — computers, mobile phones, tablets, routers, browsers, game consoles, and more. Its loyal customer base includes giants in the media industry, including TechCrunch, BBC, Vox, CNET, Financial Times, and The Wall Street Journal. But is it the right one for you? Let's take a quick look at some of its pros and cons to help you decide.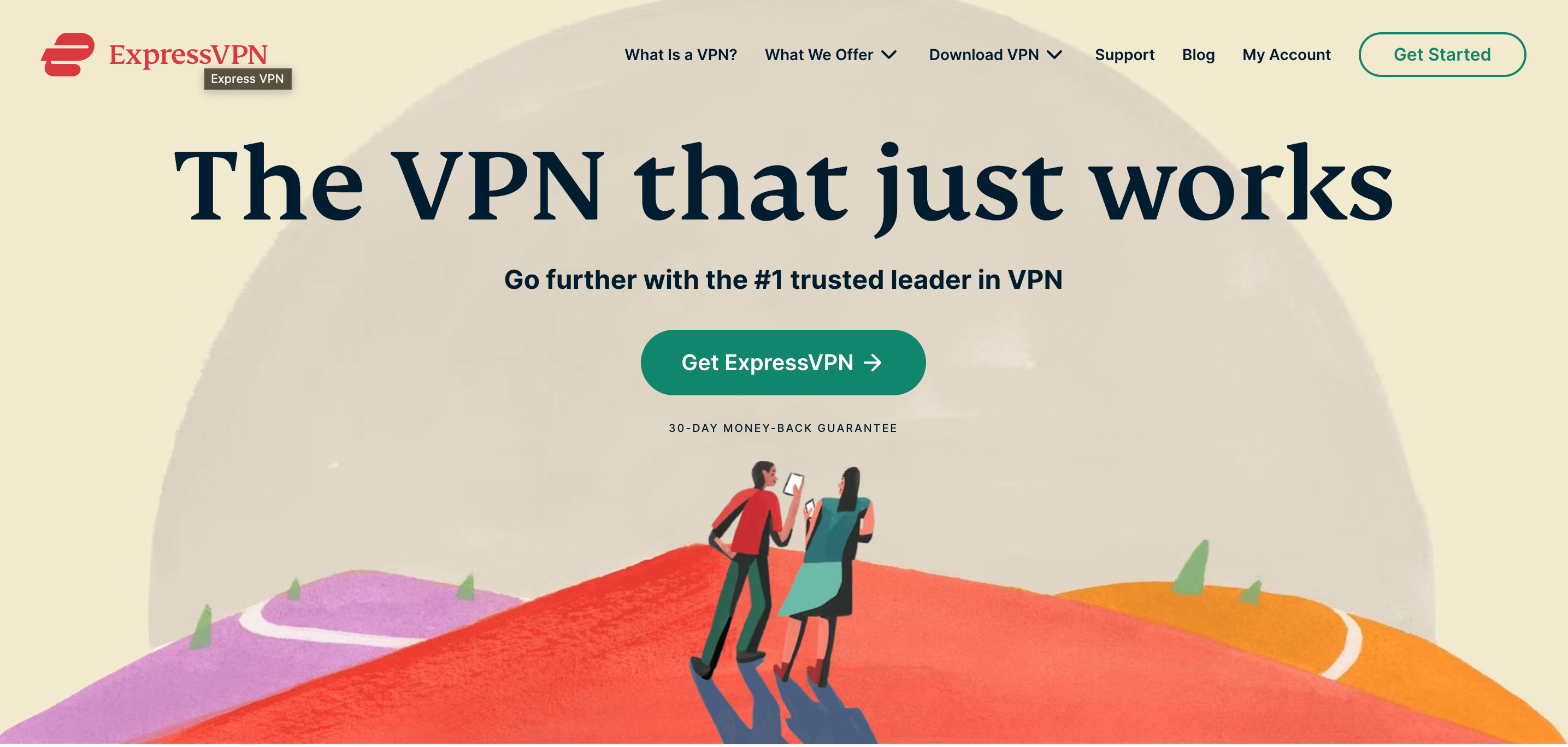 👍 PROS:
Blazing fast speeds across all locations
Good server distribution
Audited servers
No activity and connection logs
Solid security features
New VPN server technology — TrustedServer
Government-grade encryption
Exclusive Lightway VPN protocol — faster and more secure
Private, zero-knowledge DNS server
Split-tunnelling feature
Lightning-quick connectivity
Works in China
Allows Bitcoin payment
Supports a wide variety of devices, browsers, game consoles, and more
24/7 live customer support
30-day money-back guarantee
👎 CONS:
Lacks specialized servers
A bit more pricey than other VPN services
Simultaneous connection is limited to only five devices
Get ExpressVPN - Protect Your Privacy!
Server Locations






























































































EXPRESSVPN KEY DATA
Jurisdiction: British Virgin Islands
Member of intelligence-sharing alliances: NO
Servers: 3,000 servers across 94 countries
Server location: 160 server locations
Simultaneous connection: Up to 5 different devices
Desktop apps: Windows, macOS, Linux
Mobile apps: iOS, Android, Chromebook, Kindle Fire, routers
Browser apps: Chrome, Firefox, Edge
Consoles: Playstation, XBOX, Nintendo Switch
Encryption: AES with 256-bit keys
Protocols: Lightway, L2TP/IPsec, OpenVPN, IKEv2, and PPTP
DNS and IP leak protection: YES
Automatic kill switch: YES
Notable Features: Unlimited bandwidth, ultra-fast servers, split tunnelling, TrustedServer technology, private DNS, no-log policy, best for cloud gaming and game consoles, 24-hour live customer support, 30-day money-back guarantee
SEE WHAT USERS HAVE TO SAYTrustpilot Rating:
4.4 out of 5 from 7,717 reviews
I have been using ExpressVPN for a number of years now and believe it to be THE best VPN offering. I can use it across multiple devices, and there are many locations to choose from. Whilst I have had no issues with the service lately, I did experience a few technical issues a number of years ago but found the people at ExpressVPN a pleasure to deal with who resolved the technical issues I had at the time. I would have no hesitation in recommending ExpressVPN for anyone looking to use a VPN. Started using Express VPN when we cut the satellite cable for TV and never looked back. I find I use the VPN most of the time now for web browsing as well. It helps in reducing the effectiveness of tracking cookies by everyone who should not be tracking us to begin with. Express VPN is awesome. No issues since I started using it over a year ago. Just renewed my annual service.
Express VPN is a tool I have used every day for at least four years. It provides me with anonymous browsing, safe online transacting at wireless hotpots, geographic relocation for country-specific websites, and, best of all, excellent personalized customer service when I can't overcome a specific issue. I have been using Express VPN for almost a year and now I can say that it is part of my ritual whenever I am online. I feel secure while logging into online banking or browsing the net. I have never had a connection drop during my usage. All in all a good product that I would recommend to anyone who wants to be secure while online.
WHO IS BEHIND EXPRESSVPN?
ExpressVPN is a virtual private network (VPN) service that is operated by Express VPN International Ltd. — a privately held company based in the British Virgin Islands. The company was founded in 2009 and has since become one of the most popular and reputable VPN services available.
The company's mission is to provide fast, secure, and reliable VPN services to users around the world. ExpressVPN has a team of security experts who are constantly working to improve the company's technology and ensure that its users are protected from online threats.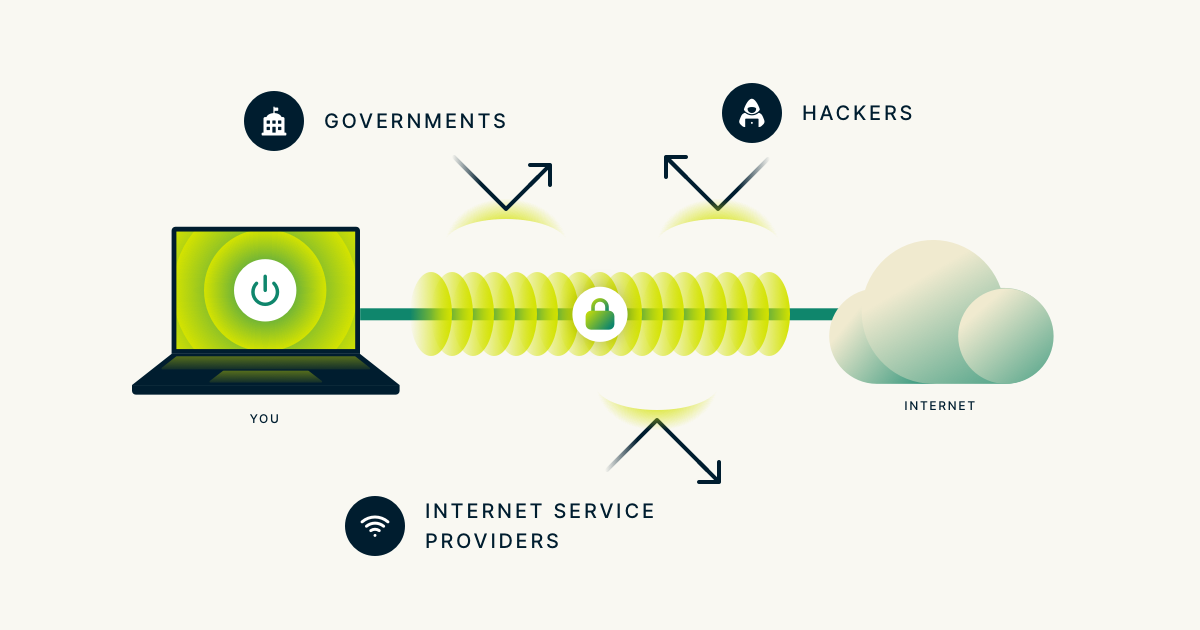 HOW DOES IT WORK?
ExpressVPN works by creating a secure and encrypted connection between your device and one of the company's servers located around the world. Here's a more detailed explanation of how it works:
1. When you connect to ExpressVPN, your device (such as a computer or smartphone) sends a request to connect to one of the company's servers.
2. ExpressVPN then assigns your device a new IP address, which is used to identify your device on the internet. This IP address can be located in any of the company's server locations around the world.
3. All data sent between your device and the server is encrypted using advanced encryption protocols, which helps to protect your data from interception and unauthorized access.
4. Once your data reaches the server, it is decrypted and sent on to its intended destination on the internet (such as a website or online service).
5. Similarly, when data is sent back from the internet to your device, it is encrypted by the server and decrypted by your device.
6. Throughout this process, ExpressVPN employs a range of advanced security features, such as a kill switch and split tunneling, to help ensure that your data is always secure and protected from online threats.
By routing your internet connection through one of ExpressVPN's secure servers and encrypting your data, ExpressVPN helps to protect your privacy and enhance your online security. Additionally, the ability to connect to servers in different locations can allow you to access content that may be restricted in your own country.
WHO IS IT FOR?
ExpressVPN is ideal for a wide range of users who are looking to enhance their online security and protect their privacy. Here are some examples of who might benefit from using ExpressVPN:
1.
Privacy-conscious individuals:
ExpressVPN is a good choice for people who want to protect their online privacy and keep their personal data secure. The service employs strong encryption protocols and has a strict no-logs policy, which means that it does not collect or store any information about its users' online activity.
2.
Travelers:
ExpressVPN is a great option for people who travel frequently and want to access content that may be restricted in their own country. The service has servers located in over 90 countries around the world, which allows users to access content from different regions.
3.
Remote workers:
ExpressVPN can be a valuable tool for remote workers who need to access company resources or work on sensitive projects while connected to public Wi-Fi networks. The service encrypts all data sent between a user's device and the VPN server, which helps to protect against unauthorized access.
4.
Gamers:
ExpressVPN can provide faster and more stable connections for online gaming by reducing latency and minimizing lag. Additionally, by allowing users to connect to servers in different regions, the service can help gamers access games that may be blocked or restricted in their own country.
WILL IT KEEP ME ANONYMOUS ONLINE?
ExpressVPN is headquartered in the British Virgin Islands, which falls outside of any intelligence-sharing agreements. It's good news for those who value privacy, as it means your data won't end up being monitored and shared with members of the Five, Nine, and 14-Eyes agreements. Another win for privacy-conscious individuals is the fact that ExpressVPN keeps no record of your activity and connection logs, and they have independent auditors to prove it. On their website, they have explicitly stated that they DO NOT and will NEVER log the following:
• IP addresses (source or VPN)
• Browsing history
• Traffic destination or metadata
• DNS queries
On the security front, you'll be happy to know that ExpressVPN employs some of the most stringent security measures around. It encrypts your data and communications using the uncrackable AES-256 — the same encryption adopted by militaries, governments, banks, and other private sectors. Depending on your device, ExpressVPN offers five choices: L2TP/IPsec, OpenVPN, IKEv2, PPTP, and Lightway. All of it is pretty standard, so you're probably already familiar with them.
On the other hand, Lightway is something new. It is ExpressVPN's very own open-source VPN protocol. Aptly named, it is supposed to be lightweight and less battery intensive, so it guarantees fast connections and speedy downloads without draining your battery. It's like WireGuard®, which ExpressVPN does not support at the moment, but better. In addition to great upload and download speeds, minimal battery drain, and quick connection, you'll also get "always-on" protection as well as obfuscation and TCP support.
Another new thing is its proprietary technology, TrustedServer, which ensure your data runs on the server's RAM rather than the hard disk. This minimizes data risk as everything is wiped out with every reboot. Other than these, you'll find features that are pretty standard such as kill switch, perfect forward secrecy, split tunnelling, and more.
IS EXPRESSVPN SECURE?
Yes, ExpressVPN is a very secure VPN service that employs advanced encryption protocols and a range of security features to protect users' online privacy and data.
One of the key features that make ExpressVPN so secure is its use of AES-256 encryption, which is widely considered to be one of the strongest encryption standards available today. This encryption is used to protect all data sent between a user's device and the VPN server, ensuring that it cannot be intercepted or accessed by unauthorized parties.
In addition to its strong encryption, ExpressVPN also employs a range of advanced security features, such as a kill switch, which automatically terminates a user's internet connection if the VPN connection is lost, and split tunneling, which allows users to route traffic through the VPN or their local network selectively.
WHAT ARE THE FEATURES?
ExpressVPN provides conventional VPN features that you would anticipate from a top-grade provider, supplemented with cutting-edge security measures to ensure data security, online confidentiality, and anonymity. In the following sections, we will delve into some of the features that enable these safeguards.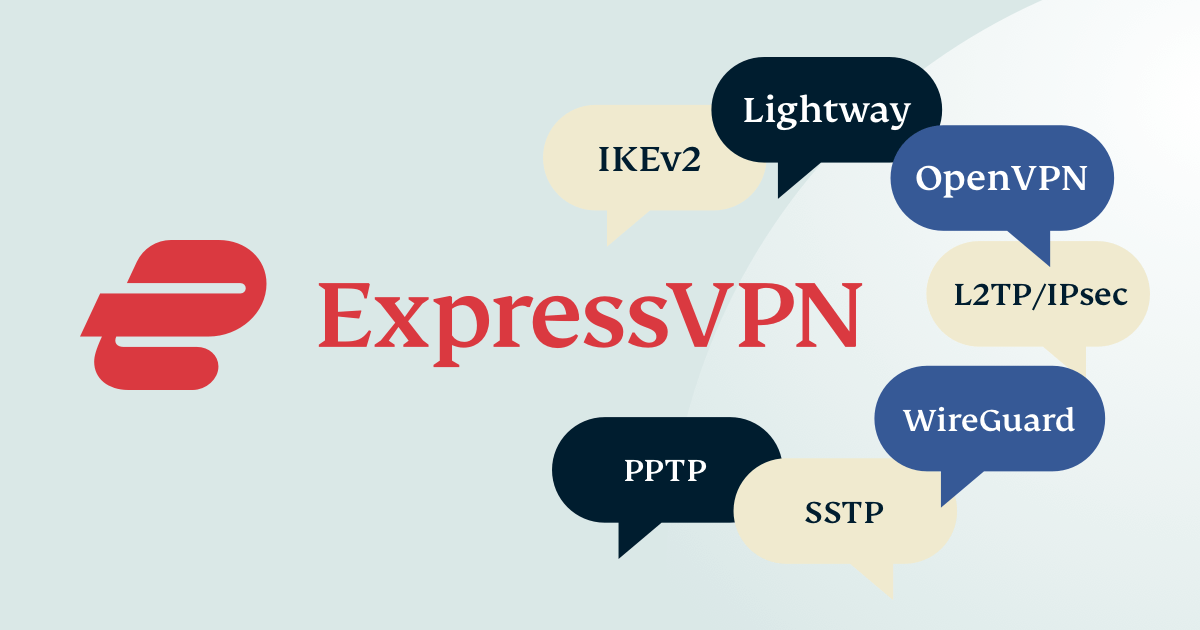 Lightway Protocol
ExpressVPN's Lightway protocol is a new VPN protocol designed to provide faster, more reliable connections for you. It was developed in-house by ExpressVPN and is based on the latest internet protocol standards.
Compared to traditional VPN protocols like OpenVPN and IPSec, Lightway is lightweight and efficient, resulting in faster connection times and lower latency. The use of modern encryption algorithms ensures that your data remains secure and private.
Lightway has the ability to adapt to changing network conditions, such as switching between Wi-Fi and mobile networks, without interrupting your VPN connection. This makes it a great choice for you if you're frequently on the go and need a reliable and consistent VPN connection.
In addition, Lightway has low power consumption, making it useful for mobile devices. It is also designed to minimize the amount of data transmitted over the network, resulting in improved connection speeds and decreased latency.
Overall, ExpressVPN's Lightway protocol offers several benefits for you, including faster connection times, lower latency, and improved reliability. Although it's new, it has already been integrated into the ExpressVPN app and can be used on various devices and operating systems.
Best-in-class Encryption
ExpressVPN uses best-in-class encryption to protect users' data and online activity. Encryption is the process of encoding data in a way that makes it unreadable to anyone who does not have the proper key or password to decrypt it. This makes it an essential tool for protecting sensitive information, such as passwords, financial data, and personal information.
ExpressVPN uses two main types of encryption to protect its users:
•
AES (Advanced Encryption Standard) encryption:
This is a widely used encryption standard that is considered to be highly secure. ExpressVPN uses AES-256 encryption, which is the strongest version of this encryption standard currently available.
•
OpenVPN protocol:
This is a highly secure VPN protocol that is widely regarded as the gold standard for VPN encryption. It uses a combination of AES encryption and authentication protocols to ensure that data is protected and secure.
In addition to these encryption protocols, ExpressVPN also supports other VPN protocols, including IKEv2/IPSec and PPTP, although these protocols may offer slightly weaker encryption than OpenVPN.
TrustedServer Technology
ExpressVPN's TrustedServer technology is a unique feature that sets it apart from other VPN services. TrustedServer is an innovative approach to VPN server architecture that is designed to provide an unparalleled level of security, privacy, and reliability.
Traditionally, VPN servers are built using a combination of hardware and software, with operating systems and applications installed on physical or virtual machines. These servers can be vulnerable to a variety of security threats, including malware, hacking attempts, and data leaks.
With TrustedServer, ExpressVPN takes a different approach. Instead of using traditional VPN server architecture, TrustedServer is built on a stateless, container-based system that is reset and wiped clean every time it starts up. This means that all software and data on the server are completely erased and rebuilt from scratch each time it is started, ensuring that it is always running the latest and most secure software.
TrustedServer is also designed to run entirely on RAM rather than on hard drives or other types of storage media. This makes it more secure and less vulnerable to data leaks or theft, as there is no persistent storage that could potentially be compromised.
Another key benefit of TrustedServer is that it is highly scalable and can be easily replicated across multiple data centers and regions. This means that ExpressVPN can provide fast and reliable VPN connections to users around the world, while maintaining the highest standards of security and privacy.
Split tunneling
With Split Tunneling, you can route traffic through the VPN or your local network selectively. This means you can choose which apps or websites to access through the VPN and which ones to access through your local network. This feature is especially useful for you if you need to access local network resources like printers or network-attached storage devices while also using the internet through the VPN. By only routing the necessary traffic through the VPN, you can conserve bandwidth and enhance connection speeds. You can access ExpressVPN's split tunneling feature on its Windows, Mac, and Android apps. With this feature, you can exclude specific apps or websites from the VPN connection by creating a list of "split tunneling rules". You can base these rules on specific websites, apps, or IP addresses, enabling you to customize your split tunneling settings to meet your individual needs.
Leading-Edge DNS Leak Protection
A DNS (Domain Name System) leak occurs when a user's DNS requests are sent to an ISP's DNS servers instead of being routed through the VPN server. This can potentially reveal a user's online activity to their ISP, even if they are using a VPN service.
ExpressVPN's DNS leak protection feature ensures that all DNS requests are routed through the VPN server, preventing any leaks of user data. The feature also includes an automatic fail-safe mechanism that blocks all internet traffic if the VPN connection is lost or disrupted, further enhancing user privacy and security.
DNS leak protection is enabled by default in the ExpressVPN app, and users can check their DNS settings to ensure that they are protected. ExpressVPN also provides detailed guides and instructions on how to test for DNS leaks and troubleshoot any issues.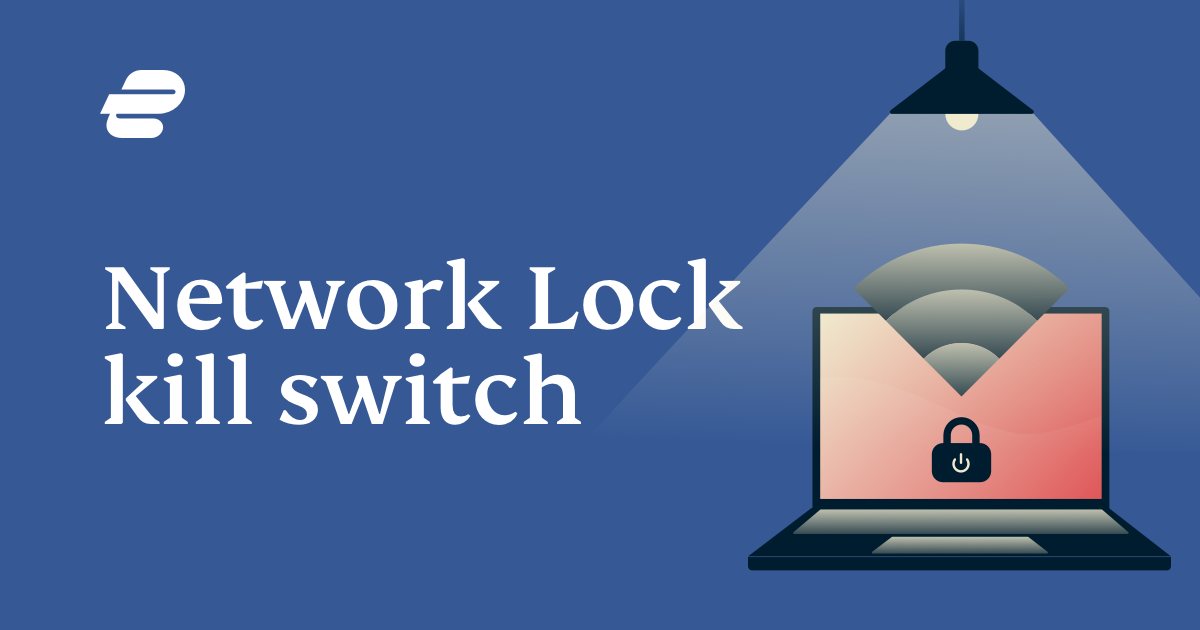 Network Lock Kill Switch
ExpressVPN's Network Lock feature helps ensure that your data stays private and secure in case of a VPN connection failure. This powerful security feature is essentially a kill switch that blocks all internet traffic if the VPN connection is lost or disrupted, preventing any unencrypted data from being transmitted over the internet. This feature is designed to keep your sensitive information from prying eyes.
When you enable Network Lock, all internet traffic is automatically blocked if the VPN connection is lost. This guarantees that your personal data is always protected, even during momentary interruptions in the VPN connection.
You can access the Network Lock feature on ExpressVPN's Windows, Mac, and Linux apps, as well as on some of its routers. You can enable or disable this feature in the app settings and whitelist specific apps or websites that you want to allow internet access to in the event of a VPN connection failure. With Network Lock, you can have peace of mind knowing that your data is always protected.
Private DNS
ExpressVPN's Private DNS feature is a built-in feature that helps to protect users' privacy and security by preventing DNS leaks and blocking DNS hijacking attempts.
DNS (Domain Name System) is responsible for translating website URLs into IP addresses that computers can use to access the internet. Without DNS, users would have to memorize the IP addresses of all the websites they want to visit, which would be impractical and inconvenient.
However, DNS can also be a potential security and privacy risk, as it can be used to track users' internet activity and can be vulnerable to attacks like DNS hijacking, where a malicious actor intercepts DNS requests and redirects them to a different, potentially harmful website.
To address these risks, ExpressVPN offers a Private DNS feature that uses a secure, encrypted DNS resolver to handle DNS requests. By using ExpressVPN's Private DNS, users can be confident that their DNS requests are not being intercepted or redirected and that their internet activity remains private and secure.
Additionally, ExpressVPN's Private DNS feature helps to prevent DNS leaks, which can occur when a VPN connection fails to properly route DNS requests through the VPN tunnel, potentially revealing users' real IP addresses and compromising their privacy. By using ExpressVPN's Private DNS, users can be confident that their DNS requests are being properly routed through the VPN tunnel, even if there is a problem with the VPN connection.
Tor (The Onion Router) Network
Tor is a network of servers designed to anonymize internet traffic by routing it through several layers of encryption and multiple servers, making it difficult to trace the original source of the traffic.
When you integrate ExpressVPN with the Tor network, you can browse the internet anonymously and securely by connecting to a Tor entry node through the VPN service. This provides you with an additional layer of privacy and security, particularly if you want to access blocked sites or browse the internet anonymously.
Once you're connected to the Tor network using ExpressVPN, all your internet traffic passes through the Tor network, and your IP address is hidden behind multiple layers of encryption, protecting your privacy and guarding you against tracking by third-party entities.
You should note that using the Tor network can slow down internet speeds significantly, due to the multiple layers of encryption and routing involved. As a result, it's recommended to use the Tor network only when it is needed, such as when accessing blocked sites or when anonymity is particularly important.
Threat Manager
Threat Management monitors your internet traffic for signs of malicious activity, such as phishing attempts, malware downloads, or other suspicious behavior, to detect potential threats. Once it discovers a potential threat, the feature notifies you and provides guidance on how best to respond.
One of the key benefits of Threat Management is its capability to monitor in real-time. This ensures that you receive alerts and guidance as soon as a potential threat is detected, preventing you from waiting until after an attack has taken place to take necessary action. With Threat Management, you can minimize the harm caused by security threats and reduce the risk of further compromise.
Threat Management also gives you access to a range of security tools and resources, such as anti-phishing tools, malware scanners, and other threat mitigation strategies. By combining these tools with Threat Management, you can proactively approach securing your online activity and protect yourself against potential security risks.
ARE THERE ADDITIONAL FEATURES?
Some high-level executives within the company state that ExpressVPN has a single-minded focus on creating the most superior VPN service imaginable, resulting in no provision of ad or malware blocking features, nor any of the supplementary add-ons one might encounter with alternative VPNs. Nonetheless, ExpressVPN does provide several additional features, including:
Public WiFi Safety
Public Wi-Fi networks are often unsecured and are found in coffee shops, airports, and other public places that can be vulnerable to hacking, snooping and other security threats.
To safeguard against these potential threats, ExpressVPN's Public WiFi Safety feature automatically encrypts your internet traffic when you connect to public Wi-Fi networks. This encryption helps to ensure that your online activities and data remain private and secure, even while you are using an unsecured Wi-Fi network.
On top of encrypting your traffic, the Public WiFi Safety feature also gives you access to other security tools and resources, like malware scanners and anti-phishing tools. This added protection assists you in identifying and reacting promptly to any potential security threats, thereby lowering the risk of further compromise.
Game Optimization
ExpressVPN's game optimization feature can help you enhance your online gaming experience by reducing lag, improving connection speeds, and enhancing overall performance. This feature is accessible to all ExpressVPN users and can be accessed through the ExpressVPN app.
The game optimization feature works by directing your internet traffic through optimized servers that are designed for speed and performance. By connecting to these servers, you can experience improved connection speeds, reduced latency, and other performance enhancements.
Aside from its server optimization capabilities, the game optimization feature also includes a range of other tools and resources to help you enhance your gaming experience. These include network diagnostics tools, traffic prioritization capabilities, and other performance optimization strategies.
One of the key advantages of ExpressVPN's game optimization feature is its versatility, working with a wide range of gaming devices and platforms, including PCs, consoles, and mobile devices. This ensures that you can experience improved performance and reduced lag on all your gaming devices, regardless of the platform you are gaming on.
Unlimited Bandwidth
If you are looking to enjoy a fast, reliable, and consistent VPN connection without worrying about data limits or restrictions, ExpressVPN's unlimited bandwidth feature could be the perfect fit for you.
With ExpressVPN, you can gain access to unlimited bandwidth on all your devices, including smartphones, tablets, laptops, and desktop computers. This means you can stream, download, and browse the web as much as you want without worrying about exceeding your data limit or experiencing slow connection speeds.
One of the key advantages of the unlimited bandwidth feature is that it enables you to play high-quality video content without buffering or interruptions. This is ideal for people who enjoy video services like Netflix, Hulu, or Amazon Prime, as these services can consume large amounts of data.
Beyond the unlimited bandwidth capabilities, you can also benefit from other features such as military-grade encryption, a strict no-logging policy, and 24/7 customer support. This broad range of features makes ExpressVPN a reliable and effective tool for safeguarding your online privacy and security while having fast and reliable internet access without data limits or restrictions.
ExpressVPN Aircove
With ExpressVPN Aircove, you can safeguard all of your connected devices, including smartphones, laptops, tablets, smart TVs, and more, from online threats and privacy violations. The router provides you with a secure and encrypted connection that helps to keep your online activities safe from prying eyes, hackers, and other malicious actors.
One of the main benefits of using ExpressVPN Aircove is that it is easy to use. The router already comes pre-configured with ExpressVPN's software, so you don't need to be tech-savvy to set it up and start using it. Simply plug the router into your modem or existing router, and you are good to go.
In addition to the router's ease of use, it also offers a range of advanced features and benefits, including automatic software updates, network-wide ad and malware blocking, and parental controls. This broad range of capabilities makes it a powerful and versatile tool that can shield your online privacy and security while also providing fast and reliable internet access throughout your home.
Note that if you want to purchase the Aircove, it is available for sale separately.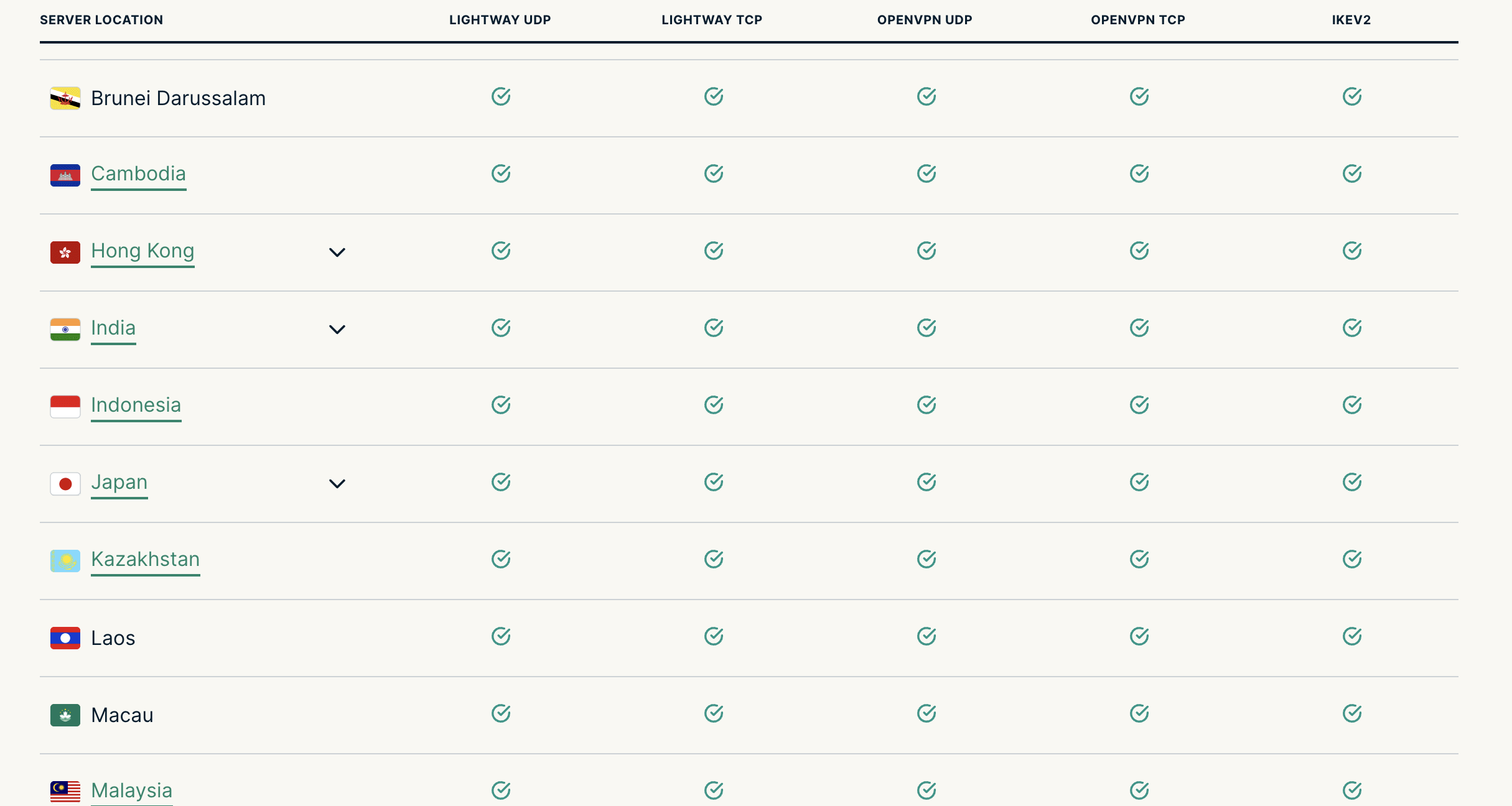 SERVER NETWORK
ExpressVPN stands out from its competitors as it offers an extensive network of 160 server locations across 94 countries which is almost double the industry average . Its server coverage is also geographically diverse, including several servers in Africa and South America, which are usually underserved by other VPN providers. Moreover, ExpressVPN has servers in countries that have repressive internet policies. It also maintains transparency in its virtual servers by listing their true location and making up only 3% of servers.
The VPN service prioritizes the security of its servers by using RAM-only servers that do not write information to disk. It also employs a cryptographic key scheme that assigns unique keys to each server and does not store those keys on disk. Additionally, the servers are located in third-party data centers that limit server access.
However, customers who prefer servers closer to their homes may not need ExpressVPN's extensive server network. ExpressVPN's best feature is more suitable for frequent travelers, business people, or those with specific needs. Nevertheless, with over 3,000 servers to choose from, ExpressVPN offers an excellent service.
HOW FAST IS IT?
We put its proprietary Lightway protocol to the test by connecting to servers in four regions and at different times of the day. With a base speed of 300 Mbps, here's how it performed:
The Americas: 235 Mbps
Europe: 210 Mbps
Asia Pacific: 133 Mbps
Middle East & Africa: 144 Mbps
We did notice a decline in speed the further away we connect from our location, but that's expected. The more important thing is that the average speeds from all geographic areas are fast enough, even for speed-intensive online activities. In fact, some servers even delivered speeds close to or better than our baseline speed, making the Lightway protocol an excellent choice for users looking for reliable and fast connections.
IS THERE A FREE VERSION?
ExpressVPN's service does not include a free version. However, it offers a "no limit" free trial with all premium features included. This means you can use the service risk-free for 30 days and get a full refund if it doesn't meet your expectations. You can get started with the free trial by clicking any link on this page, signing up for ExpressVPN, downloading the app, and connecting to the service with one tap. Additionally, you might come across special promotions or discounts from ExpressVPN to help you save money on subscription costs. It is worth noting that even though some free VPN services exist, they usually have severe limitations and do not offer the same level of security and privacy as a paid service like ExpressVPN.
HOW MUCH IS IT?
ExpressVPN currently offers three subscription plans which include a hassle-free 30-day money-back guarantee, 24/7 customer support, and high-speed unlimited bandwidth. Thankfully, there's no confusing tiered pricing, so you essentially get the same features regardless of which subscription option you choose. The only difference is the length of time you commit, and as with most subscription services, the longer you do, the cheaper the monthly cost. Right now, you can get ExpressVPN at these price points, but these can all change, so click on our link to get the latest offer.
• 1-month - $12.95
• 12-month - $6.67/month
• 6-month - $9.99/month
IS IT EASY TO USE?
ExpressVPN is super easy to use, even for those who haven't tried a VPN before. You can access the service on a variety of devices and platforms, such as Windows, Mac, iOS, Android, Linux, and routers. The apps come with a simple and intuitive interface, which allows you to connect to the VPN server of your choice with just a few clicks.
Moreover, you can find detailed setup guides and tutorials for all supported platforms on the ExpressVPN website. These can help you set up and configure the service easily and quickly. If you have any questions or issues, the customer support team is available 24/7 to provide assistance. ExpressVPN is an easy-to-use VPN service, even for those who may not be tech-savvy.
SYSTEM REQUIREMENTS AND IMPACT ON SYSTEM RESOURCES
The system requirements for ExpressVPN depend on the device or platform you want to use the service on. Here are the minimum requirements for some of the most popular platforms:
•
Windows:
Windows 7, 8, 8.1, or 10; 1 GHz or faster processor; 2 GB RAM; 200 MB free hard drive space; an internet connection.
•
Mac:
macOS 10.10 (Yosemite) or later; an internet connection.
•
iOS:
iOS 11 or later; an internet connection.
•
Android:
Android 5.0 (Lollipop) or later; an internet connection.
•
Linux:
Ubuntu 16.04, Fedora 29 Workstation, or Mint 18 or later; a 64-bit processor; 1 GB RAM; 200 MB free hard drive space; an internet connection.
•
Routers:
A router that supports VPN protocols, such as OpenVPN or L2TP/IPsec.
It's worth noting that these are the minimum requirements and that using ExpressVPN may require more powerful hardware or additional software, depending on your usage requirements.
ExpressVPN is also designed to have minimum impact on your system performance, so you won't experience any slowdowns when using the service. However, as with any VPN, it may add some overhead to your internet connection, which could cause a slight decrease in connection speed. The actual effect on your system performance depends on various factors, including the strength of your device's hardware, your internet connection speed, the location of the VPN server you're connecting to, and the level of encryption used by the VPN.
That being said, ExpressVPN uses high-performance servers and advanced encryption protocols that are optimized for speed and security. You can enjoy several features that improve performance, such as split tunneling and a built-in speed test.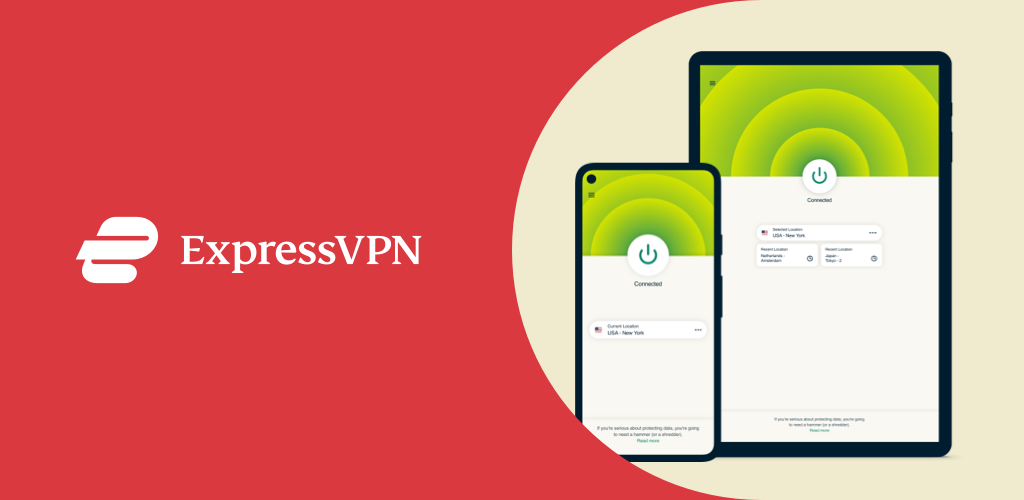 EXPRESSVPN ACCESS ON-THE-GO
ExpressVPN offers user-friendly apps for a variety of devices and platforms, including Windows, Mac, iOS, Android, Linux, and routers. The apps are designed to be easy to use, with a simple and intuitive interface that allows users to connect to the VPN server of their choice with just a few clicks.
The ExpressVPN mobile apps are optimized for mobile devices and are designed to work seamlessly on smartphones and tablets. The mobile apps offer the same level of security and privacy as the desktop apps and provide features like automatic kill switches, split tunneling, and leak protection. Additionally, the mobile apps offer a streamlined user interface that is optimized for smaller screens and can be used on both Wi-Fi and mobile data networks.
Here's a comprehensive list of mobile devices that are compatible with ExpressVPN:
• iPhone and iPad running iOS 11 or later
• Android smartphones and tablets running Android 5.0 (Lollipop) or later
• Amazon Fire TV Stick and Fire Tablet devices
• BlackBerry smartphones running Android OS 5.0 (Lollipop) or later
• Windows Phone devices running Windows 8.1 or later
• Chromebook devices running Chrome OS version 53 or later
• Nook devices running Android 4.4.2 or later
• Apple TV running tvOS 10 or later
• Android TV devices running Android 5.0 (Lollipop) or later
• Samsung Smart TV running Tizen OS version 2.4 or later
• LG Smart TV running webOS version 3.0 or later
• Roku devices running Roku OS version 7.2 or later
It's worth noting that not all features may be available on all devices and that some devices may require additional configuration or setup steps to use ExpressVPN. Additionally, ExpressVPN offers detailed setup guides and tutorials for each supported platform on their website, which can help users to set up and configure the service quickly and easily.
CUSTOMER SUPPORT
ExpressVPN's customer service can be reached 24/7 via live chat and email. The live chat button is prominently displayed on the website, making it simple to find and quickly assess the website's customer support. You'll be surprised by how quickly they respond; in our experience, a live agent, not a bot, responded to our query in just two seconds. Additionally, the responses were cordial, authoritative, and straightforward. You can send them screenshots with instructions if you're having technical problems, and if that doesn't work, they might be able to provide remote assistance. For non-English speakers, ExpressVPN also provides an auto-translate feature.
BOTTOMLINE
ExpressVPN may not be the most affordable VPN service out there, but we can assure you that it's worth the price. Its security, privacy, user-friendliness, and accessibility on almost every platform and device are strong, which is what counts. Its Lightway protocol is groundbreaking, leading to reliable high speeds during testing. Additionally, we found its customer service to be top-notch. We give it a 10/10 rating, and we'd recommend it to both novices and advanced users.
FAQWhy should I invest in a VPN?
It's challenging for free VPNs to match the features and services provided by a quality paid VPN service. With non-paid versions, you're more likely to experience slow connections due to a large number of users on subpar networks, weak security, limited VPN server locations, and no customer support.
On the flip side, as a top-notch paid VPN service, ExpressVPN provides connections that are lightning-fast, secure, and stable. With a vast network of servers in 94 different countries, you have the flexibility to choose from various server locations. Additionally, our Support Team is available round the clock to resolve any queries you may have.
If you use a VPN like ExpressVPN, are you breaking any laws?
Nope. The legitimacy of VPNs cannot be denied as they're extensively used by individuals and corporations worldwide to safeguard their privacy and online activities, even in countries with repressive governments. In fact, officials, academics, and business leaders often use them as essential measures to remain globally competitive despite government discouragement. It's not practical for any nation to prohibit all VPNs. However, it's important to be aware that illegal online behavior remains illegal regardless of whether you use a VPN or not.
Can I use ExpressVPN on my phone?
Yes, you can use ExpressVPN on your phone. ExpressVPN provides dedicated apps for both iOS and Android mobile devices, which you can download from the respective app stores. Once you have installed the app on your phone, you can log in to your ExpressVPN account and connect to any server location to secure your internet connection and protect your privacy. The mobile app also offers features such as split tunneling, which allows you to choose which apps use the VPN connection and which use your regular internet connection.
Will ExpressVPN reduce the speed of my internet connection?
​​While it's true that VPNs can slow down your internet connection, ExpressVPN stands out as an exception due to its industry-leading speeds. In most cases, users don't even notice a difference between using the VPN and not using it. In fact, if your internet service provider has been deliberately slowing down your traffic (known as throttling), using a VPN could even lead to an improvement in your connection speed. If you do experience a slowdown, you might consider selecting a server location that is closer to your physical location.
Can VPN usage impact battery life?
A VPN, like any app, can consume some amount of power on your device. This is due to the resource-intensive encryption and decryption operations that take place during VPN usage, which can require additional processing power and drain battery life. To mitigate this issue, ExpressVPN has created Lightway, a specially-designed and exclusive VPN protocol that uses considerably less battery power than other protocols. Additionally, Lightway is faster and simpler to audit and maintain, making it a more efficient and user-friendly choice for VPN users.