SHORT ON TIME? HERE'S A QUICK SUMMARY
Looking for a single solution to cover both internet security and privacy? Cyberghost now offers a Security Suite that includes antivirus, Privacy Guard tool, Security Updater, and 256-AES military-grade encryption to secure your online traffic. These features, along with a robust network, 24/7 customer support, and a 45-day money-back guarantee, make CyberGhost worth checking out.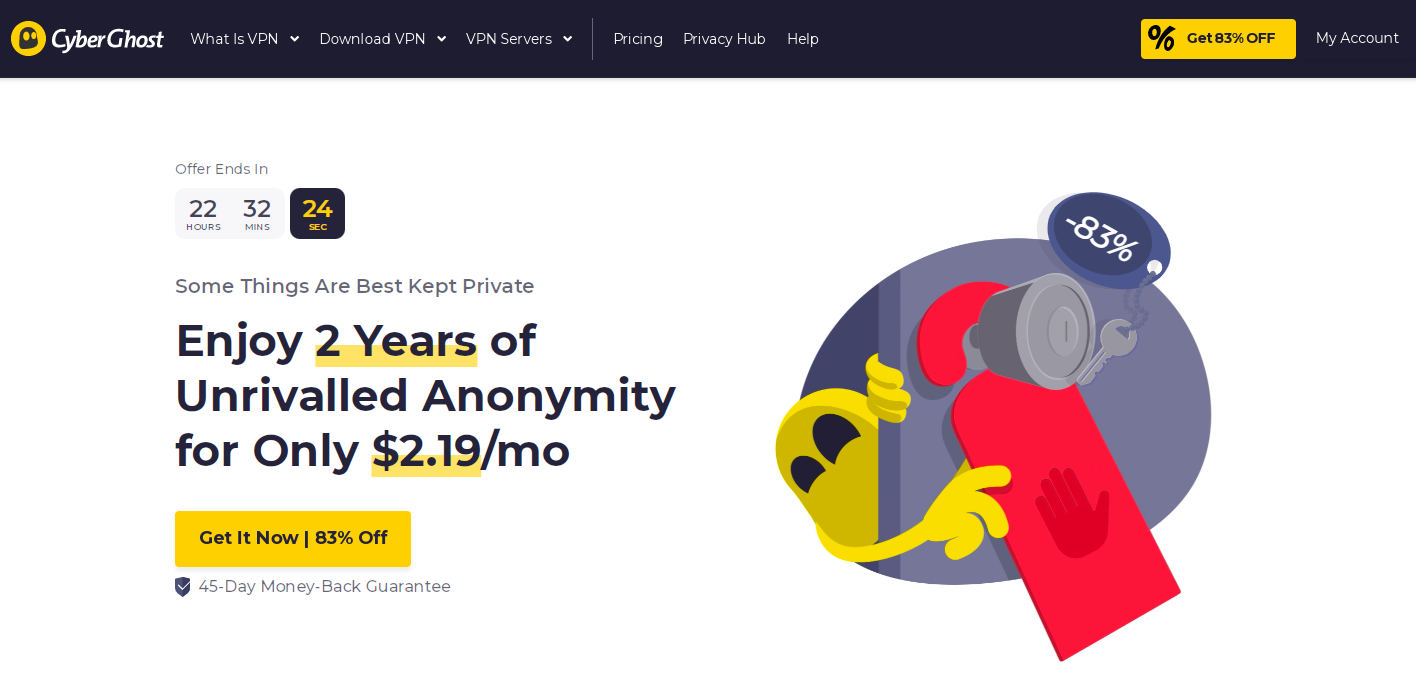 👍 PROS:
Easy to use
Aesthetic and intuitive user interface
Audited no-log policy
Military-grade encryption and additional security features
Unlimited bandwidth and traffic
Tons of reliable servers
Quick connections powered by WireGuard
Extensive platform support
Great for beginners but offers customization for advanced users too
User-friendly apps for Windows, macOS, Android, iOS & more
Extremely fast speeds
24/7 customer support
Quick live chat assistance
Value for money
45-day money-back guarantee
👎 CONS:
Limited payment options
Doesn't work in China
Get Cyberghost - Protect Your Privacy!
Server Locations


























































































CYBERGHOST KEY DATA
Jurisdiction: Romania
Member of intelligence-sharing alliances: NO
Servers: 7,000+
Server location: 91 countries
Simultaneous connection: up to 7 devices
Desktop apps: Windows, macOS, Linux
Mobile apps: iOS, Android
Browser apps: Chrome, Firefox
Consoles: XBOX series X, XBOX One, XBOX 360, Playstation 4, Playstation 5
Encryption: AES 256-bit
Protocols: OpenVPN, IKEv2, WireGuard®, (L2TP) / IPSec
DNS and IP leak protection: YES
Automatic kill switch: YES
Notable Features: Strict no-log policy, unlimited bandwidth and traffic, fast speeds, NoSpy servers, My ID Guards, content blocker, 24/7 live Customer Support service, 45-day money-back guarantee
SEE WHAT USERS HAVE TO SAYTrustpilot Rating:
4.8 out of 14,077 reviews
"Outstanding service. I have used CyberGhost overseas, at home for banking, and never have any issues.""I like the ability to connect with foreign servers. I think it is a good product and I have told my friends about it.""I wrote a critical review a few years back ripping the interface apart over how clunky it is. Since that last review, things have gone through an overhaul and it's been much improved. I know I am not the reason for it, but the idea of consistent improvements, like that one, is something that keeps my auto-renewal active.""Excellent support and R&D. Useful updates keep your product current. FYI, build a personal server list to save time when connecting. Best VPN I've used in the past 10 years."
WHO IS BEHIND CYBERGHOST?
CyberGhost was founded in 2011 by Robert Knapp, an IT entrepreneur from Germany. The company was later acquired by Israeli cybersecurity firm, Kape Technologies, in 2017. Today, CyberGhost is part of Kape Technologies' portfolio of online privacy and security products, which also includes ZenMate and Private Internet Access (PIA). CyberGhost is headquartered in Bucharest, Romania, and operates under Romanian jurisdiction, which has more favorable data privacy laws than some other countries.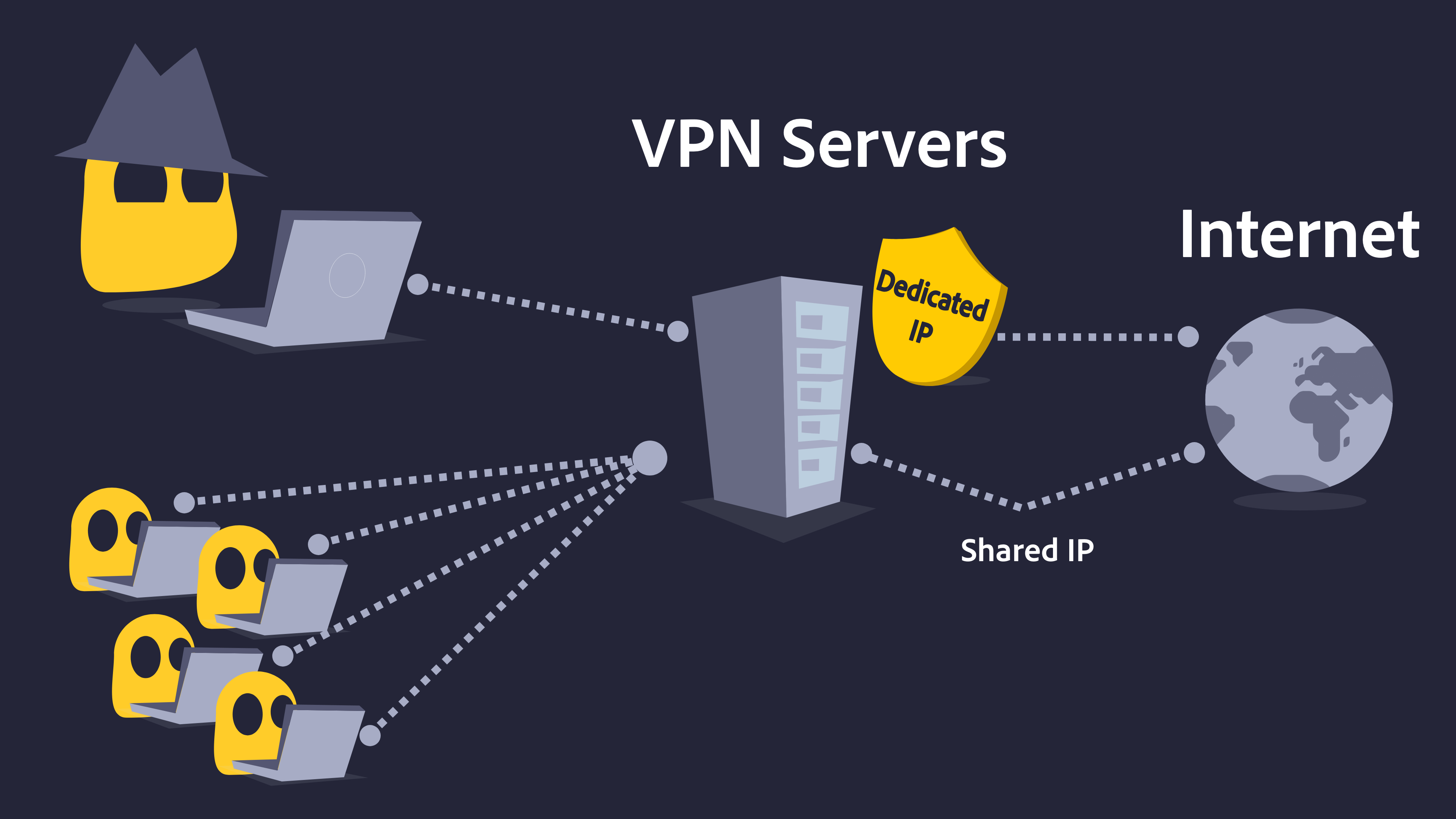 HOW DOES IT WORK?
CyberGhost is a Virtual Private Network (VPN) service that works by creating an encrypted tunnel between your device and a CyberGhost server. When you connect to a CyberGhost server, your traffic is routed through that server, and your IP address is replaced with a new one from the server's location. This makes it appear as if you're accessing the internet from a different location, which can help you bypass geographic restrictions and access content that might be blocked in your location.
Here's a simplified step-by-step process of how CyberGhost works:
1. You download and install the CyberGhost software on your device.
2. You launch the CyberGhost software and select a server location to connect to.
3. The software establishes an encrypted tunnel between your device and the selected server location.
4. Your internet traffic is routed through the encrypted tunnel and appears to be coming from the server location.
5. You can access the internet as usual, with the added benefit of increased privacy and security.
CyberGhost uses various encryption protocols to ensure that your traffic is secure and private, including AES-256 encryption, which is a widely used encryption standard. Additionally, CyberGhost has features such as an automatic kill switch that can help protect your privacy in case your connection to the VPN server is lost.
WHO IS IT FOR?
CyberGhost VPN can be useful for a variety of individuals who want to protect their online privacy and security. Here are some examples of who CyberGhost can benefit:
1. Individuals who want to browse the internet privately: CyberGhost can help hide your online activity from your Internet Service Provider (ISP), advertisers, and other third parties who may be tracking your online behavior.
2. People who want to access geo-restricted content: CyberGhost allows you to connect to servers in different countries, which can help you bypass geographic restrictions and access content that might be blocked in your location.
3. Travelers who use public Wi-Fi: Public Wi-Fi networks are often unsecured, which can make it easy for hackers to intercept your online activity. CyberGhost encrypts your traffic, which can help protect your sensitive information when you're using public Wi-Fi.
4. Journalists, activists, and other individuals who face online censorship or surveillance: CyberGhost can help protect your online privacy and circumvent censorship or surveillance efforts by governments or other entities.
5. People who want to download or share files anonymously: CyberGhost's encryption and anonymity features can help protect your identity when you're downloading or sharing files online.
WILL IT KEEP ME ANONYMOUS ONLINE?
First off, CyberGhost is based in Bucharest, Romania, making it out of reach of members of the 5/9/15 Eyes Alliances. This means you won't have to worry about anyone snooping on your day-to-day life, gathering your data, and sharing it with the NSA and other SIGINT agencies. However, two things made us wary of CyberGhost initially. First, its parent company used to make adware, and secondly, they don't publish third-party audits. In general, we stay away from VPNs that are lacking in the transparency department.
Upon closer inspection, though, all these seem like water under the bridge now. Firstly, CyberGhost has stepped out of Kape Group's shadow and currently operates independently. They also took steps to become more transparent by publishing a transparency report every three months.
Indeed, Cyberghost has had a strong stance on privacy in recent years. We also looked at their privacy policy page to see if it reflects their commitment to protecting our online privacy. It shows that:
• They DO NOT monitor, record, log, or store your traffic data, including your browser history, traffic destination, data content, and search preferences.
• They DO NOT store connection logs tied to your IP address, connection timestamp, or session duration.
• They DO NOT have access to the credit card information you submitted to the payment processor.
From a technical standpoint, Cyberghost's security solutions are also impeccable. A robust AES 256-bit encryption and several protocols ensure your anonymity at all times. There are four protocol choices depending on your device: OpenVPN, IKEv2, (L2TP) / IPSec, and WireGuard®. Now, here's where it gets interesting. WireGuard® supposedly blends the best of both worlds in the protocol universe. While OpenVPN is the most secure, it's common knowledge that it is CPU-intensive, so it's not exactly speed-friendly. On the other hand, IKEv2 is faster because it is less resource-intensive. So now WireGuard® - a fresh-from-the-oven VPN tunnel - is an attempt to combine OpenVPN's "security" and IKEv2's "speed". The result? You can enjoy video-calling or gaming without the annoying disconnections!
Other than the WireGuard® protocol, CyberGhost pretty much has the same security features as the other top VPNs. They offer DNS and IP leak protection, a content blocker, and an automatic kill switch. In addition, CyberGhost ensures your online security even when you're out and about. Every time your device detects a WiFi network, CyberGhost automatically initiates a VPN connection. Now every time you're in a cafe, hotel lobby, or at the airport, you can connect to their WiFi without having to worry about hackers and cybercriminals!
IS CYBERGHOST SECURE?
CyberGhost VPN offers a range of security measures to help protect users' privacy and security. Here are some of the key security features provided by CyberGhost:
Encryption: CyberGhost uses AES-256 encryption, which is a widely used encryption standard that is considered very secure. This encryption helps to protect your internet traffic from being intercepted or monitored by third parties.


Automatic Kill Switch: CyberGhost has an automatic kill switch that will disconnect your internet connection if your VPN connection is lost. This helps to prevent your data from being exposed in the event that your VPN connection drops.


DNS and IP leak protection: CyberGhost has built-in protection against DNS and IP leaks, which can help ensure that your real IP address and DNS queries are not revealed while using the VPN service.


No-logs policy: CyberGhost has a strict no-logs policy, which means that the company does not log any of your internet activity or connection data. This makes it easier to maintain the privacy of your online activity.


Malware and Ad Blocking: CyberGhost has built-in malware and ad-blocking feature that can help protect you from online threats such as malware, viruses, and intrusive ads.


Wi-Fi protection: CyberGhost provides protection when using public Wi-Fi networks, which can be vulnerable to hacking and surveillance.


WHAT ARE THE FEATURES?

Let's take a closer look at the security features provided by CyberGhost.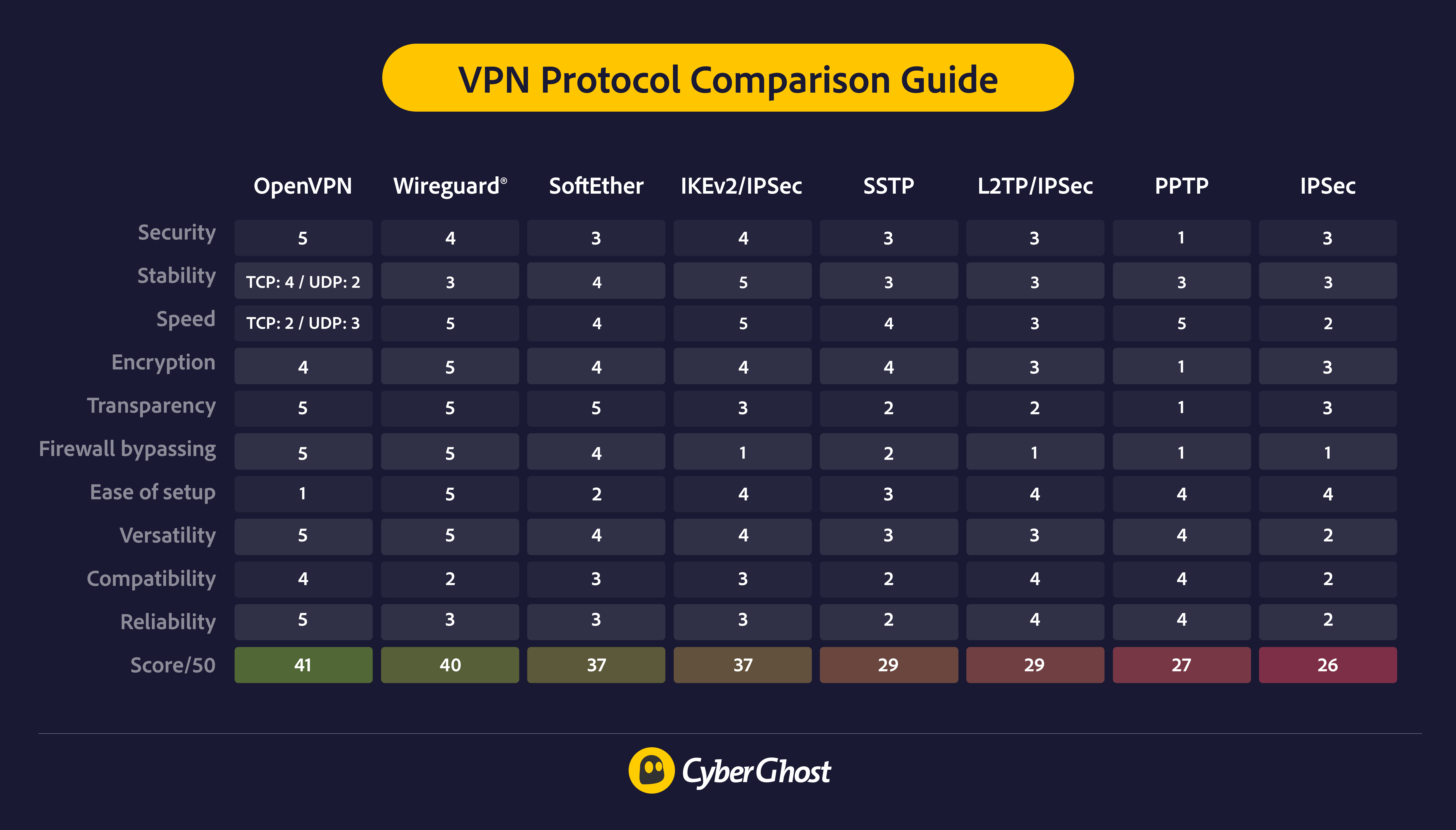 Security Protocols

CyberGhost offers a variety of security protocols to suit your specific needs, including OpenVPN, WireGuard, IKEv2, and L2TP/IPSec. If you're not familiar with these protocols, no need to worry - CyberGhost's apps will automatically choose the best option for you. However, for advanced users who want more control, you also have the option to select your preferred protocol manually. This flexibility ensures that you can customize your connection and enjoy the level of security that works best for you.

OpenVPN: OpenVPN is an open-source VPN protocol that creates secure and encrypted connections between a client and a server over the internet. It uses SSL/TLS protocols to provide encryption, authentication, and integrity checks, ensuring that the data transmitted over the VPN is protected from cyber threats. OpenVPN is flexible and can run on a variety of operating systems and platforms, and it can be configured to use different encryption algorithms and ciphers. It is widely used by companies and individuals who need to provide or use secure remote access to their networks and protect their online activities from hackers and other malicious actors.

IKEv2: Internet Key Exchange version 2, or IKEv2, is a cutting-edge VPN protocol that encrypts data in transit between a client and a server on different networks. When combined with other encryption protocols like IPsec, it provides extremely secure authentication and data transmission. Mobile devices benefit greatly from this protocol because of its lightning-fast connection times and its ability to seamlessly switch between networks without disrupting security. While WireGuard is compatible with Windows, macOS, and iOS, it is only marginally faster than IKEv2.

L2TP/IPSec: CyberGhost also supports the Layer 2 Tunneling Protocol (L2TP) in combination with the Internet Protocol Security (IPSec) protocol. L2TP/IPSec provides a high level of security by encrypting data and protecting it from unauthorized access.

WireGuard: If you're in search of a VPN protocol that offers both blazing-fast speeds and robust security, this may be the perfect solution for you. WireGuard uses state-of-the-art cryptography and is designed to be lightweight, fast, and secure. It was the quickest protocol during our tests, making it an excellent choice for activities such as watching videos, gaming, browsing, and video calling. Furthermore, it's compatible with all major operating systems, so you can use it on any device you prefer.

Automatic Kill Switch

Protecting your privacy and security while using CyberGhost VPN is made easy with their Automatic Kill Switch feature. This feature is available across all CyberGhost VPN apps, including Windows, macOS, iOS, Android, and Linux.

The purpose of the kill switch is to prevent your internet traffic from being exposed to your ISP or any other third party in case your VPN connection fails or is interrupted. Once the kill switch is activated, it cuts off your internet connection until the VPN connection is re-established, thereby ensuring that your IP address and online activities remain private and secure.

You can enable the automatic kill switch feature in the settings of the CyberGhost VPN app. Once enabled, it will run in the background and activate automatically whenever the VPN connection drops. This ensures that your online privacy and security are always protected, even if there is an unexpected VPN connection failure.

App Protection

The App Protection feature in CyberGhost VPN allows you to specify which apps on your device should use the VPN connection automatically. This means that when you launch these apps, they will connect to the internet through the CyberGhost VPN tunnel, providing an extra layer of security for your most sensitive data.

For example, you may want to use the App Protection feature for your banking app, email client, or other apps that contain private information. By setting these apps to use the VPN connection automatically, you can be sure that your data is encrypted and protected from prying eyes, even if you forget to connect to the VPN manually.

CyberGhost's App Protection feature is easy to use and customizable. You can choose which apps to protect, and you can set up different protection profiles for different situations. For example, you may want to have a different set of protected apps when you're using public Wi-Fi than when you're connected to your home network.

Split-Tunnelling

Split Tunneling enables you to select which apps or websites use the VPN connection and which use your regular internet connection. This feature is useful if you need to access websites or apps that are not available in your region but you still want to access local content or services using your normal internet connection. With Split Tunneling, you can create a list of apps or websites that you want to exclude from the VPN connection, and this list can be customized to suit your specific needs and preferences.

This feature also allows you to optimize your internet connection by excluding apps that don't require a VPN, such as gaming sites or social media apps. This can help to reduce network congestion and improve the overall performance of your internet connection.

CyberGhost's Split Tunneling feature is available on both desktop and mobile apps, and it's easy to use. You can create different exclusion lists for different situations, and you can easily switch between different profiles depending on your needs.

It might seem similar to the App Protection feature, but it's not. The main difference between Split Tunneling and App Protection is that Split Tunneling allows you to choose which apps or websites should use the VPN connection and which ones should use your normal internet connection, while App Protection automatically connects specific apps to the VPN. Split Tunneling is useful for accessing specific content or services, while App Protection is useful for ensuring that certain apps always use the VPN connection for added security.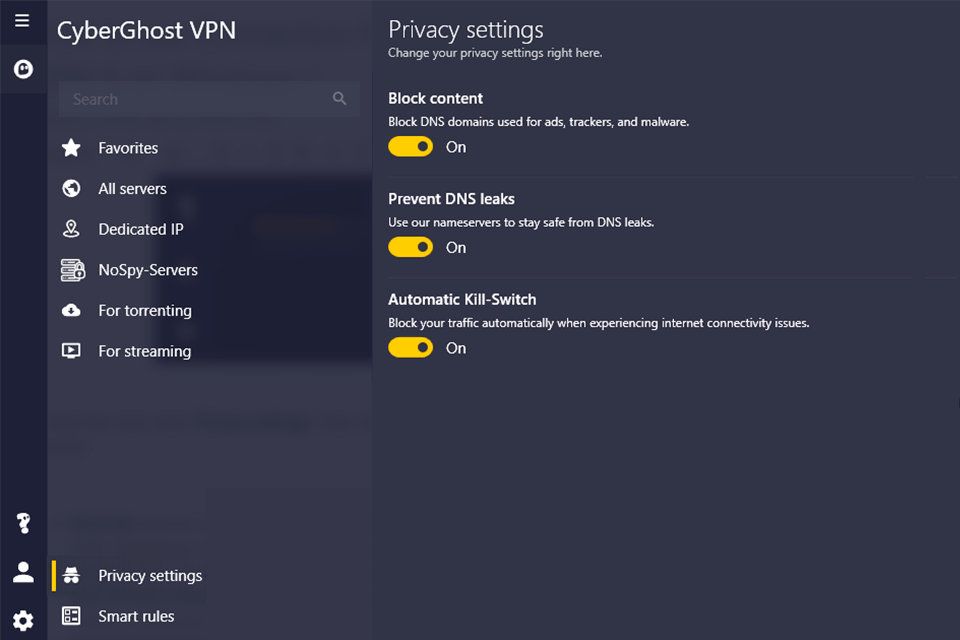 Specialized Servers

CyberGhost VPN provides a variety of server options, each of which is optimized for a specific set of tasks. This isn't something that every provider offers, so it's a nice addition. In addition, even users with little experience with VPNs should find the feature easy to use.

Here are some of the specialized servers that CyberGhost offers:

1. NoSpy servers: These servers are located in CyberGhost's data center in Romania and are designed to provide maximum security and privacy. They are operated only by CyberGhost and are not accessible to any third parties.

2. Streaming-optimized servers: These servers are designed to provide fast and stable connections for streaming services like Netflix, Hulu, Amazon Prime, and more. They are optimized for specific streaming platforms and can help you access geo-restricted content from different regions.

3. Torrenting-optimized servers: These servers are optimized for P2P (peer-to-peer) file sharing and are designed to provide fast and secure downloads without compromising your privacy.

4. Gaming-optimized servers: These servers are optimized for online gaming and provide low latency connections for a smoother and more responsive gaming experience.

5. Dedicated IP servers: These servers provide you with a dedicated IP address that is exclusively yours. This can be useful for accessing specific websites or services that require a static IP address.

Perfect Forward Secrecy (PFS)

PFS is a cryptographic technique that generates a new encryption key for each session between your device and the VPN server. This means that even if an attacker were to somehow obtain access to the encryption key for one session, they would not be able to use it to decrypt any other sessions, as each session has its own unique key.

By using PFS, CyberGhost ensures that each VPN session is completely independent and secure, even if an attacker were to somehow obtain access to the key for a previous session. This enhances the overall security of the service and provides an extra layer of protection for users.

It's worth noting that PFS can have a slight impact on performance, as generating new encryption keys for each session requires additional computing resources. However, CyberGhost is designed to minimize this impact as much as possible, and most users should not notice any significant difference in performance when using the PFS feature.

Transparency Reports

​​CyberGhost takes transparency very seriously and releases a Transparency Report every three months, providing insights into malware activity flags, key infrastructure statistics, and user data requests. This is more frequent than any other VPN provider that we know of, with a close runner-up being Private Internet Access, which releases two per year. By doubling the standard frequency, CyberGhost shows a serious commitment to transparency with its customers. You can access reports for every quarter on their Privacy Hub blog, which highlights the number of data requests CyberGhost has received. The report divides these requests into three categories: malicious activity, copyright infringement, and police requests. In the latest report, the requests had decreased by 34%, which is a reassuring sign of CyberGhost's focus on user privacy. While many powerful groups are requesting information about online activities, CyberGhost holds on to its commitment to protecting your personal information and maintaining transparency in how it handles requests for user data.


ARE THERE ADDITIONAL FEATURES?

CyberGhost VPN offers more than just basic protection, with many additional features available to users. Here are a few examples of what you can expect: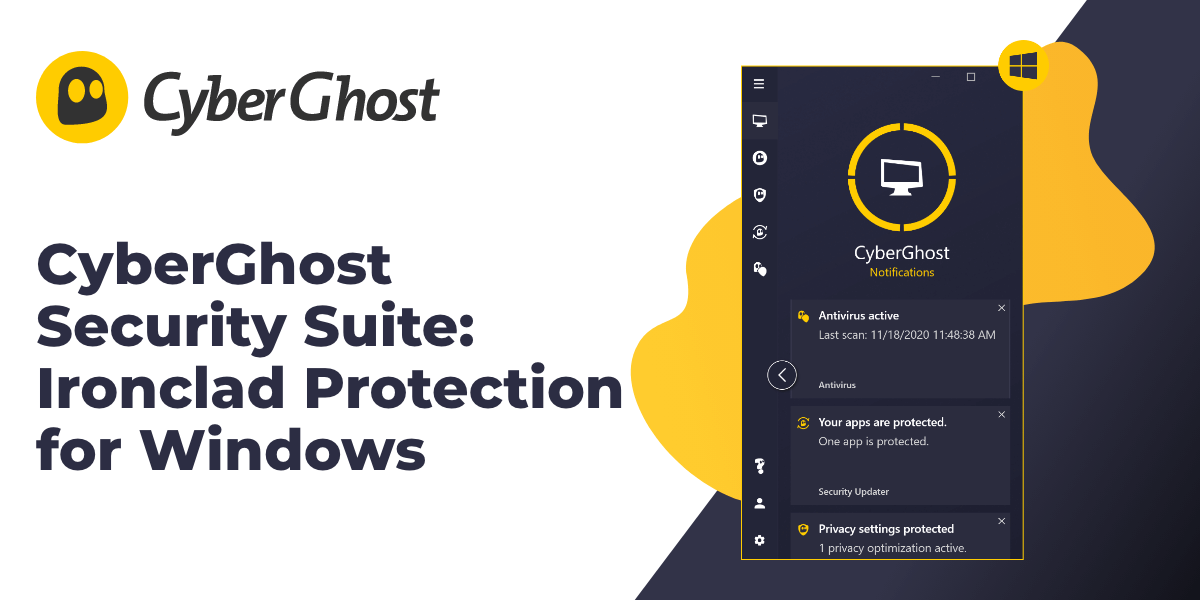 Antivirus

In addition to its VPN service, CyberGhost also offers antivirus protection as an optional feature that can be installed separately on your Windows device. The CyberGhost antivirus is provided by BullGuard, a well-known antivirus software provider. It protects against viruses, malware, spyware, and other online threats in real time. The antivirus software is designed to work seamlessly with the CyberGhost VPN service, allowing you to browse the internet safely and securely while also keeping your system protected from various online threats.

Smart Rules

CyberGhost's Smart Rules feature is designed to help you customize your VPN connection according to your specific needs. With Smart Rules, you can set up predefined rules that automate specific actions when you connect to the VPN. This will help you tailor your VPN connection to your needs. For instance, you can set up rules to block malicious websites, prevent online tracking, block ads, and protect your data on public Wi-Fi networks. Using Smart Rules will empower you to enhance your browsing experience, safeguard your privacy and security online, and prevent online threats. Overall, CyberGhost's Smart Rules feature provides a plethora of customization options that allow you to optimize your VPN connection and elevate your online experience.

Dedicated IP

CyberGhost has a dedicated IP feature designed specifically for you that grants access to a static IP address exclusively for your use. This feature presents a range of benefits, including enhanced security, unrestricted access to content, and the ability to use online banking services securely. Furthermore, the dedicated IP makes it easier to remotely access your home or office network, helping you connect to your devices securely and gain access to files or applications from anywhere. CyberGhost provides a variety of dedicated IP addresses from different locations like the United States, United Kingdom, Germany, and more, all for an additional fee on top of your existing subscription.

Nospy Servers

CyberGhost has a feature called "NoSpy servers" designed with your online security and privacy in mind. This feature provides maximum security and privacy for users who want to ensure the protection of their data. These servers are situated in highly-secured data centers based in Romania, which are operated and owned by CyberGhost. The NoSpy servers are only accessible to CyberGhost, which ensures your data's maximum security. Additionally, the feature comprises advanced security protocols such as OpenVPN, IKEv2, and L2TP/IPsec, designed to keep your data private and secure. You can make fast and reliable connections through NoSpy servers, which provide high-speed connections and unlimited bandwidth. Furthermore, these servers provide CyberGhost users access to exclusive servers that are optimized for speed and security, available in different countries worldwide. With CyberGhost's NoSpy servers feature, you can leverage its high level of security, privacy, and speed; giving you peace of mind and confidence in your online activities.

Ad, Tracker, and Malware Blocker

Within its suite of privacy and security features, CyberGhost VPN includes an Ad, Tracking, and Malware Blocker that offers an extra layer of protection against online threats. This feature blocks ad, tracking scripts, and malware before they can reach your device, using advanced technology to identify and prevent malicious websites and scripts. Additionally, it blocks annoying ads and pop-ups, keeping your online activities private by preventing websites and advertisers from tracking your actions and collecting personal data. CyberGhost VPN's Ad, Tracking, and Malware Blocker is available on both desktop and mobile apps, and it's straightforward to use. Simply enable or disable this feature from the app settings, and customize the level of protection to suit your needs.

WiFi Protection

CyberGhost VPN offers a WiFi Protection feature that is designed to keep you safe when using public WiFi hotspots. Public WiFi networks are often unsecured, which means that anyone can access the network and potentially intercept your data or steal your personal information. The WiFi Protection feature provides an extra layer of security by encrypting your internet traffic and protecting your online activities from prying eyes.

When you connect to a public WiFi network with CyberGhost VPN, the WiFi Protection feature automatically enables and establishes a secure VPN connection. This ensures that all of your internet traffic is encrypted and routed through a secure VPN server, making it much more difficult for hackers or other malicious actors to intercept your data.

Identity Guard

CyberGhost Identity Guard is a feature offered by CyberGhost VPN that is designed to protect your online identity and personal information. It is available as an optional add-on to your CyberGhost VPN subscription.

This feature provides additional protection against identity theft and online fraud by monitoring the dark web for any personal information associated with your email address, username, phone number, and credit card information. It alerts you if your personal information has been compromised and provides guidance on what steps to take next.

CyberGhost Identity Guard also includes a password manager that securely stores your login credentials and generates strong passwords to help protect against unauthorized access.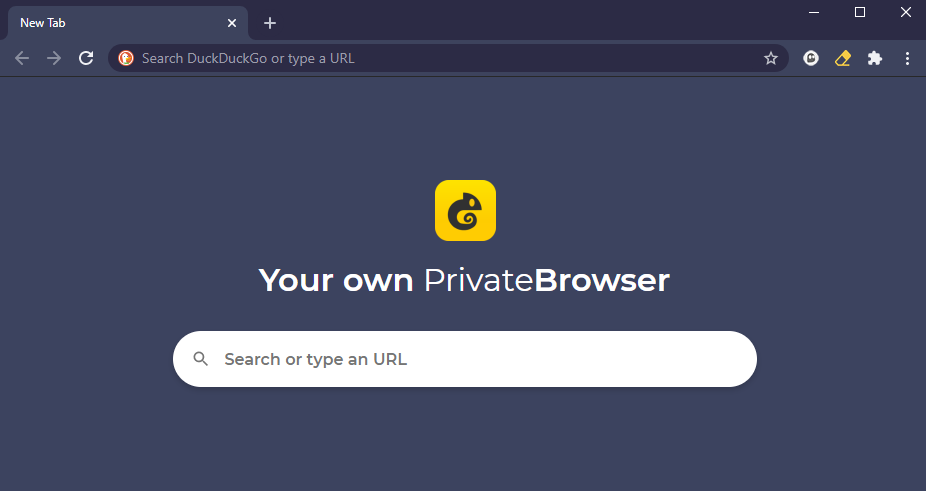 Private Browser

CyberGhost Private Browser is a fully-featured browser that works seamlessly with Chrome add-ons and extensions, offering a browsing experience that's tailored to your needs. The browser is powered by DuckDuckGo, providing you with an extra layer of privacy and ensuring that your personal data remains protected. Additionally, the browser automatically deletes your browsing history each time you exit, providing another layer of security for your online activities.

Secret Photo Vault

The Secret Photo Vault feature is designed to allow you to securely store and protect your private photos on your iOS device. With this feature, you can create a separate, password-protected vault within the CyberGhost app and then move your private photos into that vault. The photos are encrypted and protected with a password, making them inaccessible to anyone who does not have the password.

To use the Secret Photo Vault feature, simply download and install the CyberGhost VPN app on your iOS device and then open the app. From the main screen, tap on the "Vault" icon at the bottom of the screen, and then follow the prompts to create a password-protected vault. Once the vault is created, you can move your private photos into it, and they will be encrypted and protected with your chosen password.

Overall, the Secret Photo Vault feature is a useful tool for anyone who wants to protect their private photos on their iOS device. By using this feature, you can ensure that your photos are kept safe and secure, even if your device is lost or stolen.

Security Updater

CyberGhost Security Updater is a feature that ensures that the CyberGhost VPN software is up to date with the latest security features and bug fixes. It automatically checks for updates and downloads them in the background, ensuring that you always have the most up-to-date version of the CyberGhost VPN software installed on your device.

Keeping your VPN software up to date is important for ensuring that your device is protected from the latest online threats and vulnerabilities. CyberGhost Security Updater makes this process easy and automatic, so you don't have to worry about manually checking for updates or downloading new versions of the software.

In addition to the automatic update feature, CyberGhost Security Updater also provides notifications when a new version of the software is available, so you can stay informed and ensure that your VPN software is always up to date.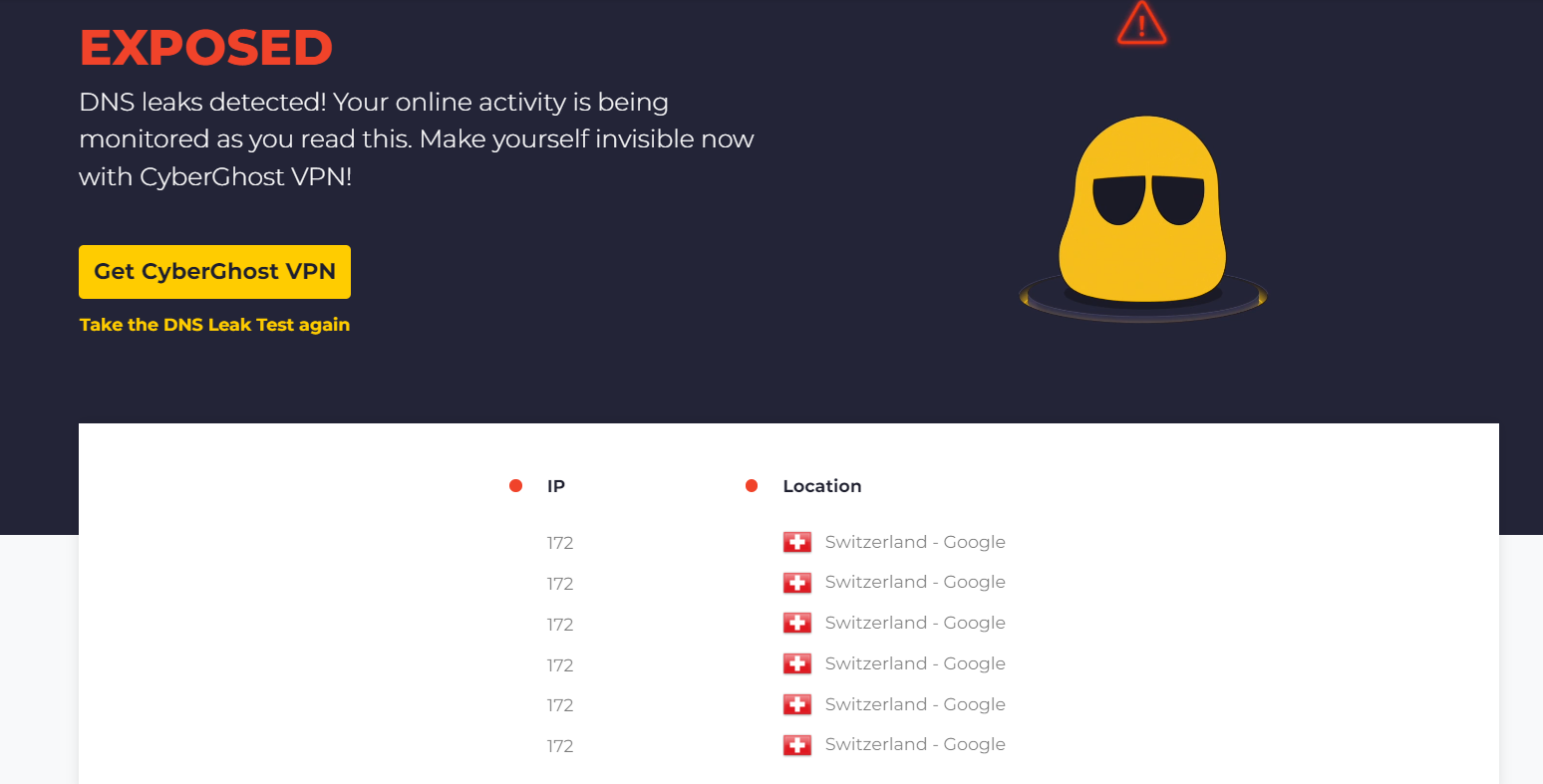 DNS Leak Protection

This feature helps prevent DNS leaks when using the CyberGhost VPN service. DNS (Domain Name System) is used to translate human-readable website addresses into IP addresses that computers can understand. When you use a VPN, all of your online traffic is encrypted and routed through the VPN's servers. However, sometimes the DNS requests can bypass the VPN connection, exposing your online activity and potentially your IP address.

With CyberGhost DNS Leak Protection, all DNS requests are encrypted and routed through the VPN's servers, preventing any DNS leaks. This ensures that your online activity remains private and secure, even if the VPN connection is lost or disrupted.

CyberGhost DNS Leak Protection is enabled by default in the CyberGhost VPN client, and there is no additional configuration required. It is a simple yet effective feature that helps to provide an additional layer of security and privacy when using the VPN service.


SERVER NETWORK

CyberGhost VPN has an impressive global network, comprising 9,008 servers in 91 countries. This vast coverage is considerably more than what most other top VPNs offer, which means there is a higher likelihood of finding a fast connection nearby. Apart from this, CyberGhost stands out from the rest by providing extensive server coverage in the US, with 1,422 server locations in the country alone, catering perfectly to users in North and South America. There are also 24 cities covered in the Asia/Pacific region, 12 cities in Africa and the Middle East, and 55 cities in Europe, offering excellent global coverage. Additionally, CyberGhost uses virtual servers in a small number, which enables it to reach otherwise difficult-to-access locations such as Saudi Arabia, Egypt, China, Iran, and Sri Lanka. Overall, the extensive server network of CyberGhost makes it an excellent option for users looking for a reliable and fast VPN connection.


HOW FAST IS IT?

Looking for a fast VPN that won't slow you down? Look no further than Cyberghost! Although it doesn't make any bold performance claims, our tests revealed that it's actually one of the fastest VPNs on the market. During our testing, we achieved a baseline internet speed of around 106.7 Mbps. But even after connecting to a local US server through Cyberghost's convenient Quick Connect feature, the speed only went down to 100.3 Mbps, a mere 6% drop. You'll hardly notice any difference as you join Zoom calls or play your favorite online games. To test Cyberghost on a distant server, we chose one located in Australia. Even after trying a few different servers, we still managed to achieve an average speed of around 64 Mbps, which is pretty good considering we were all the way in the US at the time. Though there was a significant loss of about 40%, we still found that it had little impact on our online activities. Overall, Cyberghost is a solid choice for anyone seeking a fast and reliable VPN.


IS THERE A FREE VERSION?

Yes, CyberGhost offers a no-credit card free trial for its VPN service. This trial period allows you to test the service and all of its features for a limited time without having to provide any payment information.

To sign up for the free trial, all you need to do is click any of the links on this page, create a CyberGhost account, and download the VPN software. Once you've installed the software, you'll be able to use the service for up to 24 hours without any limitations. During this time, you'll have access to all of CyberGhost's servers and features, allowing you to test the service's performance and determine if it's the right VPN for your needs.

It's worth noting that while CyberGhost's free trial does not require a credit card, it does come with some limitations. For example, you'll only be able to use the service for 24 hours before the trial period expires, and you may experience slower speeds compared to paid plans due to the high demand on the free servers.

Overall, CyberGhost's no-credit card free trial is a great way to test the service and determine if it's right for you before committing to a paid plan. If you're looking for a reliable and feature-rich VPN, it may be worth considering CyberGhost and taking advantage of their free trial.


HOW MUCH IS IT?

Offering four flexible payment plans, we find Cyberghost to be reasonably priced. It starts with a month-to-month plan that costs $12.99/month, followed by a 1-year plan at $3.99/month. The price further drops when you opt for a 6-month plan at $6.99/month. Not surprisingly, you get the most bang for your buck when you take advantage of their 2-year plan, a whopping 83% discount or $2.19/month PLUS 2 months free! Take note that only annual plans are covered with a 45-day money-back guarantee. A 14-day guarantee backs the month-to-month plan.


IS IT EASY TO USE?

Yes, CyberGhost is generally considered to be a user-friendly VPN service that is easy to use, even for those who are new to VPNs.

The software for CyberGhost is designed to be straightforward and intuitive, with a simple and easy-to-navigate interface. When you open the software, you'll be presented with a list of server locations to choose from, and you can connect to any server with just a single click.

Additionally, CyberGhost offers a range of features designed to make the VPN experience as user-friendly as possible. For example, the service includes an automatic kill switch, which ensures that your connection is always protected even if your VPN connection drops. CyberGhost also offers a range of specialized servers for specific purposes, such as gaming or torrenting, making it easy to connect to the server that best meets your needs.

Finally, CyberGhost offers 24/7 customer support to help users with any issues they may encounter. The support team is available via live chat, email, or phone, and they're known for being responsive and helpful.

All in all, CyberGhost is a user-friendly VPN service that is easy to use, even for those who are new to VPNs. With its simple interface, range of features, and responsive customer support, CyberGhost is a great choice for anyone looking for an easy-to-use VPN.


SYSTEM REQUIREMENTS AND IMPACT ON SYSTEM RESOURCES

The system requirements for CyberGhost depend on the platform you're using. Here are the minimum system requirements for CyberGhost on different platforms:

Windows:
Operating system: Windows 7 or higher
Processor: Intel Pentium 4 / AMD Athlon 64 processor or equivalent
RAM: 2 GB RAM
Hard Disk: 500 MB of free hard disk space

Mac:

Operating system: macOS 10.12 or higher
Processor: Intel-based Mac computer
RAM: 2 GB RAM
Hard Disk: 500 MB of free hard disk space

iOS:

Operating system: iOS 11 or later
Device: iPhone, iPad, or iPod touch

Android:

Operating system: Android 5.0 or later
Device: Any Android device with ARM or x86 processor

As for the impact on system resources, using a VPN service like CyberGhost will inevitably have some impact on your system's resources, such as CPU and memory usage. However, CyberGhost is designed to be as lightweight as possible, with minimal impact on your system's performance.

In general, CyberGhost is known for its fast speeds and reliable performance, even on lower-powered devices. However, if you're using an older or lower-spec device, you may experience slower performance or longer connection times when using a VPN.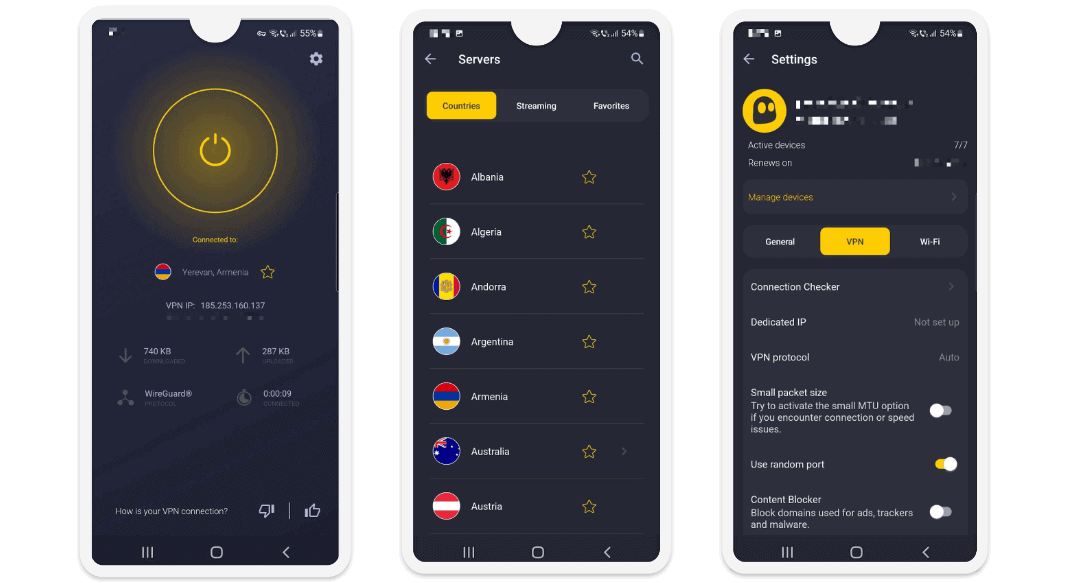 CYBERGHOST ACCESS ON-THE-GO

Despite the fact that mobile VPN applications frequently fall short of their desktop counterparts, CyberGhost's offerings are surprisingly strong. First, let's talk about their Android app. The app's interface is simple in portrait mode, with just a Connect button and location name, but switches to a more convenient tablet-friendly landscape mode that shows a list of available servers. With automatic connection to insecure Wi-Fi, OpenVPN and WireGuard protocol support (but no IKEv2), and a desktop-style random port feature, this app offers decent security features. Content Blocker support is available for blocking malware, ads, or trackers, but it's not enabled by default. However, the highlight of this app is split tunneling, which allows users to decide which apps use the VPN and which do not. The app even supports domain fronting, a technique that bypasses VPN blocking using a content delivery network. Although there's no kill switch, setup instructions for the Android system-level kill switch are available, providing adequate protection for users.

On the other hand, while CyberGhost iOS apps may not have as many features as their Android counterparts due to Apple's security model, CyberGhost's iOS app shares the same user-friendly interface as their Windows and Android apps. To get started, simply log in and tap Connect to access the nearest server location. The app offers useful features such as automatic connection to insecure or specific networks, protocol options of IKEv2 or WireGuard (no OpenVPN), and a connection checker to troubleshoot any connectivity issues. Although not the most feature-rich mobile VPN app available, CyberGhost's iOS app strikes a good balance between power and ease of use. Plus, the service offers a 7-day trial for those who are curious and want to try it out.


CUSTOMER SUPPORT

CyberGhost provides basic setup guidelines for its service on Windows, Mac, iOS, Android, Linux, and more within its web guides. While these guides offer screenshots and helpful tips, the level of detail lacks the depth and quality of other top VPN services. The knowledgebase search engine is not particularly user-friendly, requiring specific keywords to obtain limited results that are not sorted by relevance. Although the 'Recent activity' panel monitors recent activity, it only showed one article in the past year. However, CyberGhost's email and live chat support provide easy access to real-time assistance. During a live chat session, we received prompt and intelligent help on a technical topic regarding generating OpenVPN configuration files. While the support site may not be the most helpful, live chat support can quickly point you in the right direction if you have any issues.


BOTTOMLINE

CyberGhost VPN is an excellent all-around VPN option, delivering strong security and privacy features, impressive speed test scores, and competitive pricing. With its vast server network, users can enjoy fast, reliable internet access from nearly anywhere. The service also offers sleek and functional mobile and desktop apps and has undergone a third-party audit of its policies and infrastructure. All in all, CyberGhost VPN is a top choice for users seeking a versatile VPN option for various online activities.


FAQ

Should I leave my VPN on all the time?

Whether to run your VPN all the time ultimately depends on your priorities and needs. If online security and privacy are of utmost importance, it is advisable to keep the VPN running at all times. This ensures that all online activities are encrypted, and your data is secure from third-party access. Running the VPN constantly can also mask your IP address and location, thereby making it harder for anyone to track your activities.

While running a VPN might slightly slow down your internet speed due to the extra encryption and routing, if you want to access certain websites or services that are blocked in certain regions or countries, you will need to keep the VPN running all the time.

Overall, it is best to assess your specific needs and priorities when deciding whether to run the VPN all the time or not. For optimal speed, you can turn it off when not in use. However, if online security and privacy are your main concerns, it is best to keep the VPN running at all times.

Is CyberGhost fast enough to watch high-definition videos?

Yes! CyberGhost VPN is fast enough to watch high-definition videos, thanks to its Wireguard protocol that provides faster speeds compared to other VPNs in the same price range. You can also choose from the OpenVPN and IKEv2 protocols or let the VPN choose for you. For mobile devices that tend to temporarily lose connection or frequently switch between Wi-Fi and mobile data, IKEv2 is the best bet as it establishes connections quickly. If you plan on using the Exceptions feature, OpenVPN is required.

In our tests, we were able to watch 4K UHD videos using nearby servers in the US. The latest version of the app includes gaming servers that are designed specifically for gamers seeking online gameplay. Testing with this feature enabled allowed us to play fast-paced games like DOOM or Rocket League without much added input lag, provided we chose a server located near us or the game's server. The VPN connections were reliable, and we did not experience any drops during testing.

How many devices can CyberGhost be used on?

The number of devices that can use CyberGhost depends on the subscription plan you choose.

For the standard subscription plan, you can use CyberGhost on up to 7 devices simultaneously.

However, CyberGhost also offers a dedicated plan for families, called "CyberGhost Family", which allows you to use the VPN on up to 15 devices at the same time.

Keep in mind that if you want to use CyberGhost on more devices than your subscription plan allows, you'll need to purchase an additional subscription or upgrade to a higher plan.

How can I make CyberGhost run even faster?

A VPN can help you protect your online privacy and security by encrypting your internet traffic and routing it through a remote server. However, using a VPN can sometimes slow down your internet connection, which can be frustrating. To potentially speed up your CyberGhost VPN connection, you can try several tips. These include selecting a server location that is closer to your physical location, changing the VPN protocol to a faster one, optimizing your device and network settings, upgrading your subscription plan, and using a wired connection instead of Wi-Fi. You can also close unnecessary applications and browser tabs, disable background updates, temporarily turn off your firewall or antivirus, or upgrade your hardware if it's old or slow. Finally, using a server with lower load can also potentially improve your connection speed. Keep in mind that the speed of your VPN connection can depend on various factors, and these tips may not always work.

Is CyberGhost VPN malicious?

No, CyberGhost VPN is not malicious. It is a legitimate and reputable VPN service that provides users with a secure and private way to access the internet. CyberGhost VPN has been independently audited to ensure that it does not contain any malicious code or malware. However, it's important to be cautious when downloading any software or applications and make sure to only download them from trusted sources. Additionally, it's important to keep your software and applications updated to ensure that you are using the latest and most secure version.

Is using CyberGhost VPN legal?

Yes, using CyberGhost VPN is legal in most countries. VPNs are legal in many countries, including the United States, Canada, and the United Kingdom, among others. However, it's important to note that the legality of VPN use can vary depending on the country you are in and the activities you are using the VPN for. For example, some countries may restrict or prohibit the use of VPNs for accessing certain content or websites that are deemed illegal or inappropriate. It's important to review the laws and regulations related to VPN use in your country and ensure that you are using the VPN service in a legal and ethical manner.

Is it possible to use CyberGhost for free?

Yes, it is possible to use CyberGhost VPN for free, but with some limitations. CyberGhost VPN offers a free version of its service, but it has some restrictions such as a limited number of servers, slower connection speeds, and data usage limits. The free version of CyberGhost VPN is primarily designed to give users a taste of the service before they commit to a paid subscription. If you need more features, higher speeds, and unlimited data usage, you may need to upgrade to a paid subscription plan. However, if you only need basic VPN functionality and don't mind the limitations, the free version of CyberGhost VPN can be a good option.

Which devices are compatible with CyberGhost?

CyberGhost VPN is compatible with a wide range of devices and platforms, including:

• Windows
• Mac
• iOS (iPhone, iPad, and iPod Touch)
• Android (smartphones and tablets)
• Linux
• Chrome OS
• Router
• Amazon Fire TV & Fire Stick
• Android TV
• Apple TV
• Kodi
• Xbox One & Series X/S
• PlayStation 4 & 5
• Smart TVs (LG, Samsung, Android)
• Raspberry Pi

CyberGhost VPN also offers browser extensions for Google Chrome and Firefox. This means that you can use CyberGhost VPN on most popular devices and platforms, including computers, mobile devices, smart TVs, game consoles, and routers.