SHORT ON TIME? HERE'S A QUICK SUMMARY
More than 30 million users worldwide are using TotalAV, and here's why. It offers real-time protection against viruses, malware, spyware, and other online threats. It has one of the easiest interfaces to use and works on practically every device and operating system. It's no surprise then that it has a consistently superb rating in TrustPilot, garnering 4.8 stars out of 5 from 77,566 reviews as of this writing. And it's not just the users either. Third-party independent testing labs have given this antivirus their seal of approval, winning several awards, such as the Top Product Award from AV-Test and ADVANCED+ award for Malware Protection from AV-Comparatives. And what about us? Well, we put their real-time malware scanning to the test, and it performed really well, catching virtually all viruses, trojans, and ransomware during all of our simulations — on Windows, Mac, Android, and iOS. TotalAV scored a 99.3 detection rate, making it one of the top antivirus in our books.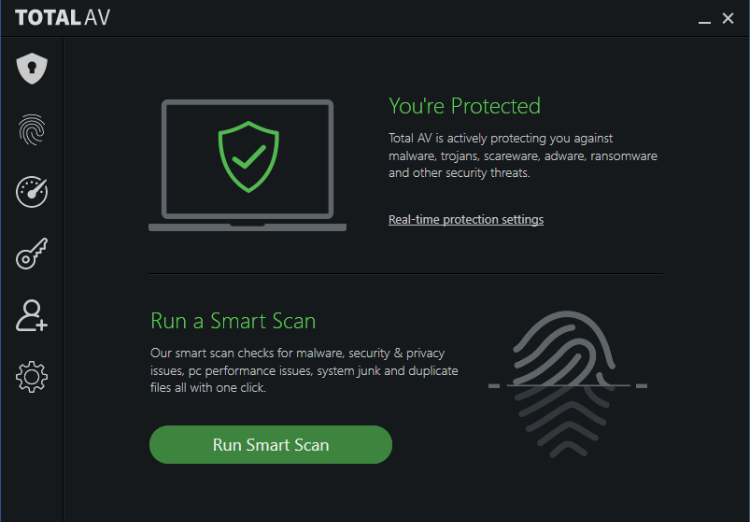 👍 PROS:
Easy to use: TotalAV antivirus has a user-friendly interface and is straightforward to install and set up.
Good value for money: TotalAV antivirus offers a range of paid plans that are reasonably priced and include a range of features.
Comprehensive protection: TotalAV provides a variety of security features to safeguard users from malware, network attacks, and other online threats.
Additional tools: In addition to antivirus protection, TotalAV also offers security and optimization tools, such as a password manager and system optimizer.
👎 CONS:
Limited features in the free version: The free version of TotalAV antivirus includes only basic antivirus protection and does not include some of the more advanced features available in the paid versions.
Mixed reviews: Some users have reported mixed results when using TotalAV antivirus, with some praising its effectiveness and others reporting issues with its performance.
Limited payment options: TotalAV antivirus currently only accepts payments via credit card or PayPal.
Get TotalAV - Protect Your Devices!
Overall, TotalAV antivirus is a solid choice for antivirus protection, particularly for users who are looking for an easy-to-use solution at a reasonable price. However, it is important to keep in mind that no antivirus software is perfect, and it is always a good idea to do your own research and consider multiple options before making a decision.
TOTALAV KEY DATAGENERAL INFO:
Price: From $19
Money-back Guarantee: YES
Platforms: Windows, Apple Mac, iPhone/iPad, Android
SCANNING:
Real-time Antivirus: YES
USB Virus Scan: YES
Auto Virus Scanning: YES
Manual Virus Scanning: YES
Registry Startup Scan: YES
Scheduled Scan: YES
THREAT TYPE:
Anti-Spyware: YES
Anti-Trojan: YES
Anti-Phishing: YES
Anti-Adware: YES
Anti-Ransomware: YES
Anti-Malware: YES
Email-Protection: NO
Anti-Worm: YES
Anti-Rootkit: YES
Anti-Spam: NO
Chat/IM Protection: YES
EXTRA FEATURES:
Personal Firewall: YES
Password Vault: YES
Ad Blocker: YES
Gamer Mode: NO
Smartphone Optimizer: YES
Safe Browser: YES
Parental Controls: NO
VPN Service: YES
Device Tune-up: YES
SUPPORT:
Live Chat: YES
Email Support: YES
Phone Support: YES
Ticket Support: YES
SEE WHAT USERS HAVE TO SAY Trustpilot Rating:
4.8 out of 5 from 77,984 reviews
"I've personally bounced around some of the other antivirus sofware's that are out there, and I think this one outranks the others. especially with it being so easily accessible across all platforms! This one really takes the cake! It's worth the purchase!""TotalAV finds threats and quickly resolves the issues. The program gives me options on how to solve and what to do with any threats. I am very pleased with this company. No annoying popups at other times when on the computer. User friendly platform.""I've never had an issue where I've accidentally install a virus or any sort of malware thanks to TotalAV. They always stop me from downloading something they deem unsafe and each time it has been and they've saved me. The software scanning feature allows me to clear cache, search history, and cookies from all web browsers in one easy click. I can uninstall applications and stop others from starting up when I boot my computer. This is the best antivirus software I've ever used and I would highly recommend it to anyone that is looking for one or already has one but might want to switch.""I have had a couple of websites blocked and have been given the choice to go further or delete. Seems to work ok. I have been using Total AV for a couple of years now. I have it on my tablet and phone and just recently on my computer."
WHO IS BEHIND TOTALAV?
TotalAV is an antivirus software developed by a company called Protected.net. Based in the UK, TotalAV has been in business since 2016 and offers a range of antivirus products for both individuals and businesses. The company's goal is to provide effective and easy-to-use antivirus protection for a wide range of users.
WHAT EXACTLY IS TOTALAV?
TotalAV antivirus is a security solution that protects users from malware and other online threats. To be precise, here's how it secures web browsing on any device:
• Antivirus protection -
Scans users' devices for viruses and other malware, and then quarantines or deletes any threats that are found.
• Real-time protection -
Monitors users' devices in real-time to detect and block threats as they appear. It checks for viruses and other threats every time your computer downloads, installs or runs an executable.
• Block Tracking Cookies -
Remove all tracking cookies from your web browser, erasing all traces of your browsing activity.
• Prevent a data breach -
It keeps an eye on your emails and alerts you if any breaches occur.
In addition to protecting against malware, TotalAV antivirus also includes features such as a firewall to block network attacks, and a web shield to protect against malicious websites. TotalAV antivirus is available for both individuals and businesses, and the company offers both free and paid versions of its software. The free version includes basic antivirus protection, while the paid versions include additional features such as the following:
• Safe Browsing VPN
• Password Manager
• Ad Blocker
• System Tune-Up Tools
• Phishing Scam Protection
• Ransomware Protection
• Disk Cleaner
• Browser Manager & Cleaner
• iOS & Android Protection
• PUA (Potentially Unwanted Applications) Protection
WHO IS TOTALAV FOR?
Some of the specific groups of users who may benefit the most from TotalAV antivirus include:
• Home users:
TotalAV antivirus is a good choice for individuals and families who are looking to protect their personal devices and data from malware and other online threats.
• Small businesses:
TotalAV antivirus offers a range of paid plans that are suitable for small businesses, including options for multiple devices and users.
• Beginner users:
TotalAV antivirus has a user-friendly interface and is straightforward to install and set up, making it a good choice for users who are new to antivirus software.
• Users on a budget:
TotalAV antivirus offers a range of paid plans that are reasonably priced, making it a good choice for users who are looking for an affordable antivirus solution.
In short, TotalAV antivirus is a good choice for people who want an antivirus program that is easy to use and offers good protection at a fair price.
WHAT ARE THE FEATURES?
TotalAV has a plethora of additional security features. It can defend your device against a wide range of threats, including ransomware and phishing attempts. It also includes a few extra features, such as the Safe Browsing VPN and system optimization tools.
You can learn everything about them in the sections that follow.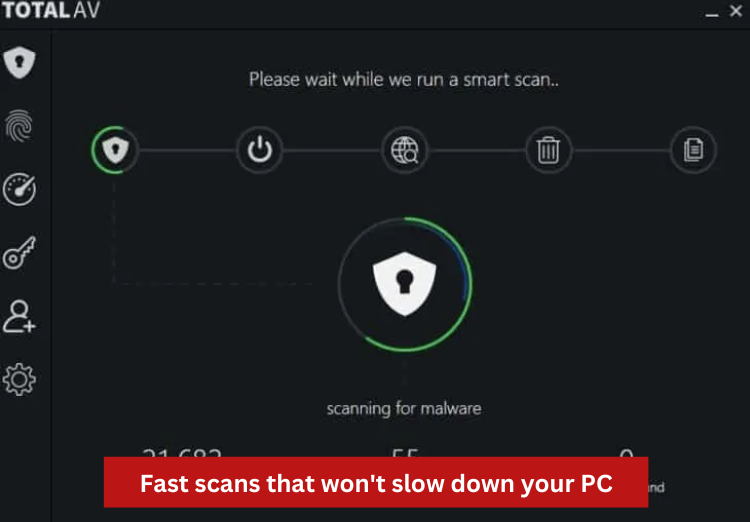 Virus Scans
TotalAV antivirus includes a virus scanning feature that is designed to protect users against malware and other online threats. The virus scanning feature works by scanning users' devices for viruses and other malware, and then quarantining or deleting any threats that are found.
Speed is one of the primary advantages of TotalAV's virus scanning function. The software is designed to be quick and efficient, and it can quickly scan a wide variety of files and locations. In addition, the virus scanning feature can detect a variety of malicious software, including viruses, worms, Trojans, and more.
TotalAV antivirus includes several different types of scanning to help protect users against malware and other online threats. The specific types of scanning available may vary depending on the version of the software that you are using. However, some of the main types of scanning offered by TotalAV antivirus include:
• Full scan:
A full scan checks all files and locations on a device for malware. This is a comprehensive scan that is designed to detect a wide range of threats.
• Quick scan:
A quick scan checks only the most important files and locations on a device for malware. This is a faster scan that is designed to identify the most critical threats quickly.
• Custom scan:
A custom scan allows users to select specific files or locations to be scanned for malware. This is a flexible scan that allows users to focus on specific areas of their devices.
• Scheduled scan:
A scheduled scan allows users to set a specific time for the software to perform a scan automatically. This is a convenient option for users who want to ensure that their devices are regularly checked for malware.
Anti-Phishing Protection
TotalAV antivirus includes a feature called WebShield that is designed to protect users against phishing attacks. Phishing attacks are a type of cybercrime in which attackers attempt to trick users into revealing sensitive information, such as passwords or financial details, by pretending to be a legitimate organization.
This feature works by analyzing the content of websites and emails that users visit or receive, and looking for patterns or characteristics that are commonly associated with phishing attacks. If a phishing attack is detected, the feature will alert the user and block the attack, helping to prevent sensitive information from being revealed.
One advantage of TotalAV's WebShield is that it can be downloaded for free as an extension or an app, with no purchase required. WebShield also has a feature called "Safe Search," which sends all web searches through TotalAV's web engine for extra safety. It's supposed to give each site it finds a green check mark if it's safe to click on, or a red cross if it could be dangerous.
Overall, TotalAV's anti-phishing tool is excellent - better than most competing brands and a valuable addition to the overall package.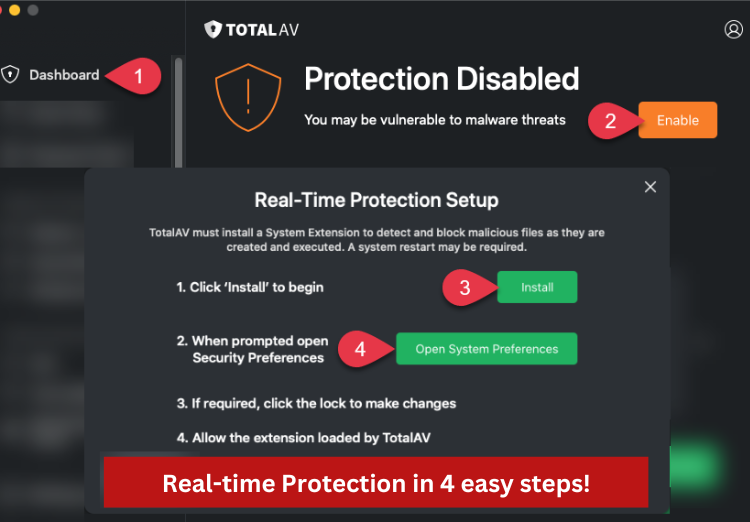 Real-time protection
TotalAV antivirus includes a feature called Real-Time Protection that is designed to protect users against malware and other online threats in real-time. Real-Time Protection works by continuously monitoring users' devices for signs of malware or other threats, and taking action to block or remove any threats that are detected.
One of the main advantages of Real-Time Protection is that it helps to protect users against threats as they appear, rather than waiting for a scheduled scan to detect them. This can be particularly important in the case of fast-moving or highly targeted threats, which may be able to evade traditional scanners.
Ransomware protection
To safeguard users from ransomware attacks, TotalAV antivirus, includes a feature dubbed Ransomware Protection. Ransomware is a type of malware that encrypts users' files and demands payment in exchange for the decryption key. Ransomware attacks can be particularly damaging, as they can result in losing access to important files and data.
TotalAV's Ransomware Protection feature works by continuously monitoring users' devices for signs of ransomware or other threats and taking action to block or remove any threats that are detected. The feature is designed to be proactive, meaning it will attempt to prevent ransomware attacks from occurring in the first place rather than just reacting to them after they have happened.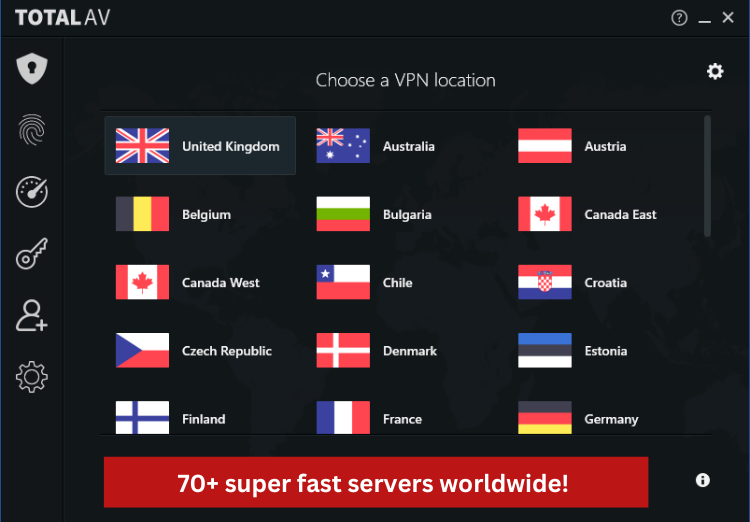 Safe browsing (VPN)
TotalAV includes a feature called Safe Browsing VPN. VPN is an abbreviation for "virtual private network," which is a service that protects your internet connection and online privacy. With Safe Browsing, your internet traffic is routed through a secure server, which makes it difficult for third parties to track your online activities or intercept your personal data. This can help protect you from cyber threats such as hackers, identity thieves, and online tracking.
You can also use public Wi-Fi networks without risk when you have TotalAV's Safe Browsing VPN installed on your device. This is a fantastic addition for those who are constantly on the go, whether for business or pleasure. Wi-Fi is widely available in places like hotels, coffee shops, airports, and restaurants, as well as on public transportation. However, using it without a virtual private network (VPN) may not be the best idea. Why? This is due to the fact that public Wi-Fi security is almost nonexistent. This leaves you open to a variety of security risks, including man-in-the-middle attacks, malware propagation, eavesdropping on your network traffic, and session hijacking. By using Safe Browsing, you can check your email and finish up some work even when you're not at your desk.
Safe Browsing doesn't have the bells and whistles of dedicated VPN software like split-tunneling or a huge server network (most of which is just hype), but it gets the job done. It offers unlimited data and more than 70 servers, of which 57 are in North America. For the purpose of this review, we connected to a server located in Denmark. We were online in seconds, and unlike on some networks, our browsing speed wasn't drastically reduced. Overall, it's worth it to spring for the most expensive plan just to get this premium feature.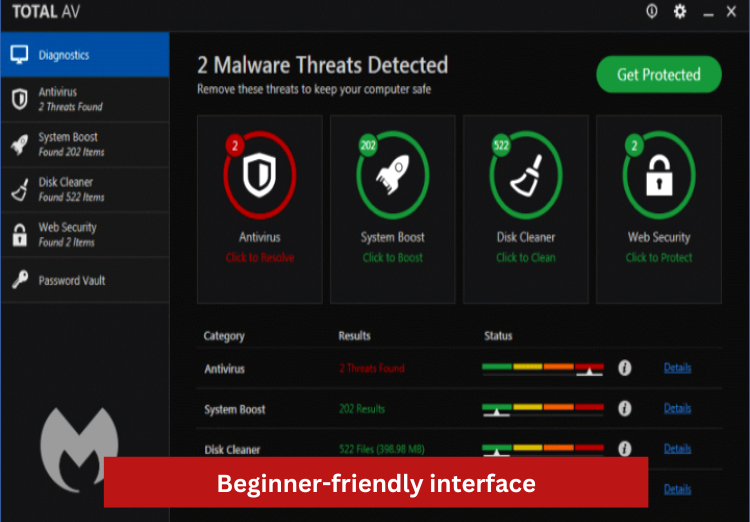 System tune-up
TotalAV's System Tune-Up feature is a tool that is designed to help optimize and improve the performance of your computer by identifying and fixing issues that may be causing it to run slowly or less efficiently. This tool includes the following:
• Startup Manager
• Browser Cleanup
• Application Uninstaller
• Duplicate File Finder
• Junk Cleaner
These tools perform a variety of tasks to help improve your computer's performance, such as:
• Scanning your computer for malware and other security threats
• Identifying and fixing errors in your system's registry
• Removing unnecessary files and temporary internet files to free up disk space
• Defragmenting your hard drive to improve file access speeds
• Optimizing your internet and network settings to improve browsing speed and performance
• Disabling startup programs that may be slowing down your computer
The disk cleaner was very helpful because it got rid of almost 2GB of cached system updates, temporary files, and files that report errors. Here are the primary benefits of using TotalAV's System Tune-Up feature:
• Improved performance and speed of your computer
• Increased stability and reliability of your system
• Ability to identify and fix issues that may be causing your computer to run slowly or crash
The program uninstaller did give us some trouble. Getting rid of a simple program took almost 20 minutes. For testing, we reinstalled it and then uninstalled it from the system menu, which took just one minute. This may be because TotalAV uses that time to dig deep into the system and delete any temporary or unnecessary files related to this program, but it's not clear. It did eventually get rid of the program, though.
It's worth noting though that while the System Tune-Up feature can be a useful tool for optimizing your computer's performance, it is not a substitute for regular maintenance and good computer habits. It's still important to keep your operating system and software up to date, run regular scans for malware, and keep your hard drive clean and organized in order to keep your computer running smoothly.
ARE THERE ADDITIONAL FEATURES?
Yes, TotalAV antivirus does have bonus features in addition to its core antivirus protection. These features may vary depending on the specific version of TotalAV antivirus that you are using, but some examples of bonus features that may be included are: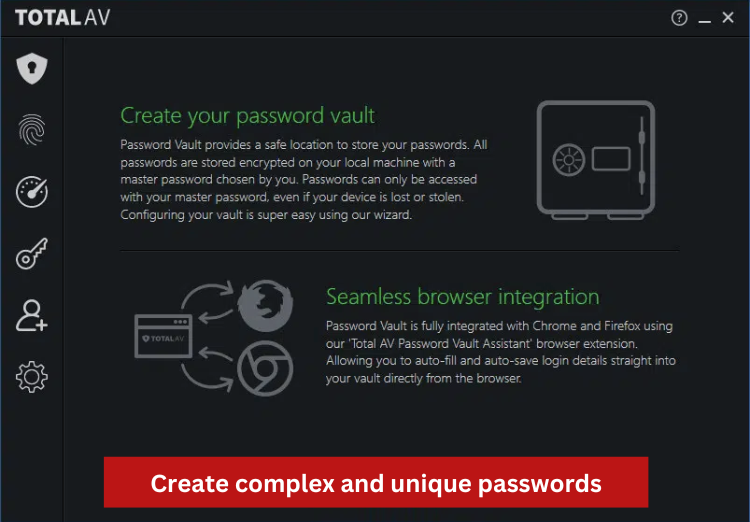 Secure Password Vault (Password Manager)
Secure Password Vault is a feature that comes with TotalAV's highest tier program —Total Security. It is designed to help you manage and secure your passwords and other personal login information. With TotalAV's Secure Password Vault, you can store all of your passwords in one place, and access them with a single master password. This can help you avoid the hassle of trying to remember multiple complex passwords, and can also help you create stronger passwords for your accounts.
In addition to storing and managing passwords, the Secure Password Vault may also allow you to store other sensitive information such as bank account numbers, credit card numbers, and security questions and answers.
Overall, the Secure Password Vault is a useful tool for helping you organize and protect your login information, and can help reduce the risk of your personal data being stolen or misused online.
Identity theft protection
We also like TotalAV's identity theft protection although it's currently available to US-based customers only. It is a feature that is designed to help protect your personal information from being stolen or misused online. Identity theft occurs when someone obtains and uses your personal information, such as your name, social security number, or credit card information, without your permission. It can be a serious problem, as it can lead to financial loss and damage to your reputation.
TotalAV's Identity Theft Protection may offer a variety of tools and services to help protect your personal information and reduce the risk of identity theft, such as:
• Monitoring your personal information online to detect any suspicious activity. This includes your credit card details, Social Security Number, health insurance and bank account numbers.
• Providing alerts if your personal information appears on the internet in places it shouldn't be
• Offering advice and guidance on how to protect your personal information online
• Providing resources to help you recover from identity theft if it does occur
TotalAV also provides up to $1 million in identity theft insurance. That is, if your identity is stolen, you may be entitled to substantial restitution. However, coverage may not be available in all US jurisdictions, so check the official website for more details.
TotalAV also provides a basic data breach check for all users, where you can enter your email address to see if it has been compromised. If it has, TotalAV informs you of the breach and when it occurred, and advises you to change your password using the TotalAV Password Vault.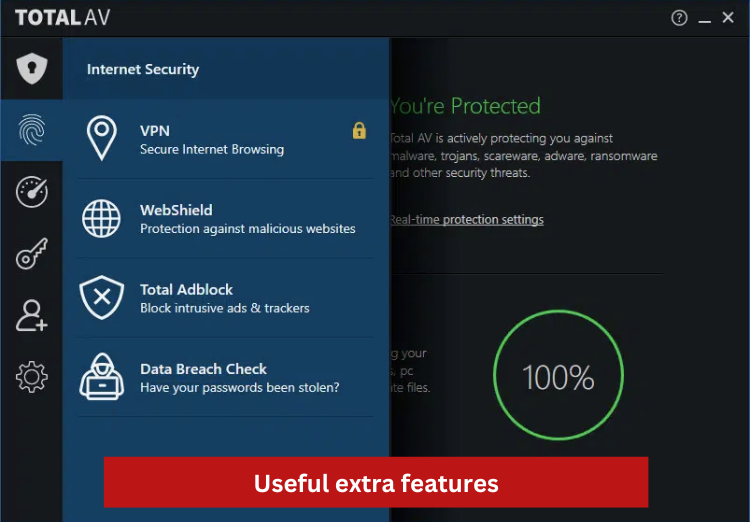 AdBlock
TotalAV Ad Block is a feature that is designed to block unwanted ads and pop-ups while you are browsing the internet. Ad blocking software works by identifying and preventing the loading of ads on websites that you visit, which can help reduce distractions and improve the overall browsing experience. We put the TotalAV AdBlock to the test on Chrome, Firefox, Opera, and Edge, and it worked great on all of them. I didn't see a single ad while I was surfing the web, and it even stopped ads from showing up on YouTube.
HOW DID IT PERFORM IN INDEPENDENT LAB TESTS?
When we last looked at TotalAV, it hadn't been tested by labs and didn't do well in our hands-on tests. TotalAV Antivirus now has decent scores from three independent testing labs. This shows that it can do the job. Also, it did better in our tests to see if it could protect against malware and find malicious URLs. It got better (its rating went from 2 to 3), but it's still not as good as the best.
AV-Test gave the service 6 points for both how well it worked and how easy it was to use. A more detailed report also shows that 97% of zero-day malware attacks in 2022 were stopped by TotalAV. It also did a great job of finding 100% of widely used malware that was 4 weeks old, and it didn't show any false positives.
AV-Comparatives, another independent testing lab, gave TotalAV's protection the highest score, Advanced+. During the test in March 2022, 99.93% of threats were stopped, and there was only one false positive.
TotalAV also got the highest AAA rating in testing done by SE LABS. It showed how well it worked by finding malicious threats with a total accuracy of 97%.
TotalAV is a clear winner when it comes to protecting against malware. It works better than average, so you can trust this antivirus software to keep you safe from a variety of cyberthreats.
IS THERE A FREE VERSION?
TotalAV, like most other antivirus companies, offers a free version of their software that can be used to scan your computer for viruses and malware. However, the free version typically includes only basic features, such as real-time scanning and the ability to schedule regular scans. More advanced features, such as real-time protection is only available in the paid version of the software. This is a huge downside because without real-time protection, you won't be protected from any future malware protection.
HOW MUCH IS IT?
TotalAV's antivirus is a well-made piece of internet security software that is reasonably priced for the majority of its features.
TotalAV offers three basic pricing tiers: Antivirus Pro, Internet Security, and Total Security.
Antivirus Pro $19
The Antivirus Pro plan is one of the company's most comprehensive and feature-rich options, and is designed to provide advanced protection for your devices and data.
Here are some of the key features of the Antivirus Pro plan:
• Real-time Protection: This feature provides ongoing monitoring of your device to detect and block malware, viruses, and other threats in real-time.
• Scheduled Scans: The software allows you to schedule regular scans of your device, so you can ensure that your system is always protected against the latest threats.
• Malware Removal: If malware is detected, the software can remove it from your system, and also provide a quarantine to restore the files if needed.
• Phishing Scam Protection: This feature helps to protect you from phishing attempts by warning you about potentially dangerous websites and email links.
• Ransomware Protection: This feature helps to prevent your files from being held for ransom by blocking the malware responsible for encrypting files.
• Advanced Firewall: This feature provides an additional layer of protection by blocking unauthorized network access and controlling which apps can access the internet.
• Protects up to 3 devices.
Internet Security $39
Everything that comes with the Pro plan plus the following:
• Safe Browsing VPN: Encrypts your internet connection and protect your online activities.
• Identity protection: This feature includes an extra layer of protection against identity theft.
Total Security $49
• Password Vault: Create and securely store your own unique passwords.
• Total Adblock: Get rid of annoying advertisements, notifications, tracking, and pop-ups.
• Additional 3 licenses
There is no family plan, but there is Family & Friends Sharing. This entails creating separate accounts for your family members and adding them to your subscription. Their devices, however, count toward the device limit on your individual plan.
IS IT EASY TO USE?
TotalAV is simple to set up and use. In fact, the entire installation procedure will take less than 5 minutes.
The user interface is well-designed, aesthetically pleasing, and free of bugs. Despite the software's numerous features, you will not be overwhelmed or confused. For example, each of the main features, such as Internet Security, Malware Protection, and System Tune-Up, has its own icon in the sidebar. If you want to customize your experience, the advanced options are also available in the settings menu.
Most antivirus software hide scan customization options behind multiple setting menus. Fortunately, TotalAV has made scheduling and adjusting antivirus scans extremely simple.
TotalAV also includes an online dashboard with FAQs and video tutorials. However, unlike some of its competitors, such as Norton, it does not support remote device access. However, there is the option to purchase additional features from the TotalAV Online Marketplace.
TotalAV provides an excellent user experience, well-placed features, a simple online dashboard, and easily accessible settings.
SYSTEM REQUIREMENTS AND IMPACT ON SYSTEM RESOURCES
The specific impact of TotalAV on system requirements will depend on the version of the software that you are using, as well as the specific configuration of your computer or device. In general, however, antivirus software like TotalAV is designed to be lightweight and not place too heavy of a burden on system resources.
Here are some general system requirements for TotalAV:
• Windows:
Windows 7 or later, 2 GB RAM, 2 GB of available hard disk space, Internet connection.
• Mac:
macOS 10.10 or later, 2 GB RAM, 2 GB of available hard disk space, Internet connection.
• Android:
4.4 or later, 50MB of free space.
It's important to note that these are the minimum requirements and depending on your use case, the software may consume more resources.
As with any software, it's always a good idea to keep your computer or device updated with the latest operating system and drivers, and to make sure that you have enough available hard drive space and memory to run the software smoothly. Additionally, you can configure the software to limit the number of scans and updates, if you find it consuming more resources.
It's also worth noting that while the software itself shouldn't place a heavy burden on your system, some of the features such as real-time monitoring, constant background scanning and active protection could consume more resources than other features like occasional scans and manual updates.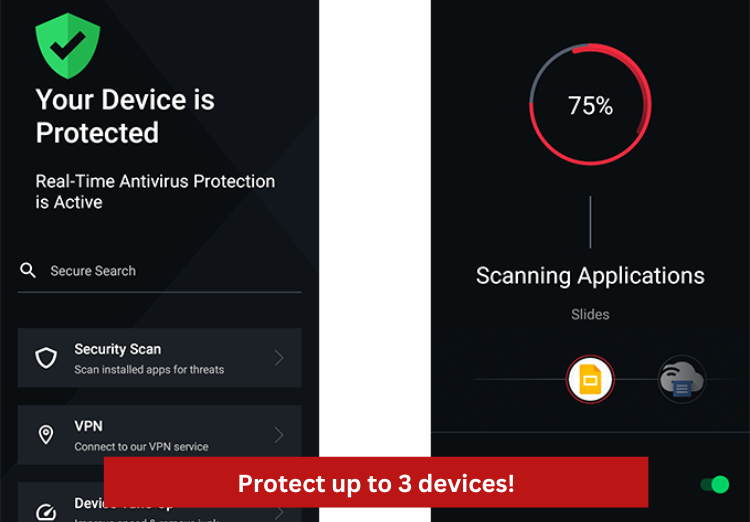 TOTALAV ON-THE-GO
The TotalAV app works with Android 8.1 and up and iOS 11.3 and up, so Apple users aren't left out of the fun.
The app's main page will always show you the current battery and storage percentages for your mobile device. There is a menu on the side of the app that users can use to access the various tools, customization options, and help resources it offers.
Quick and simple to use, the Antivirus Scan won't slow down your device's performance even if you run it frequently. In addition to these features, the TotalAV mobile app also includes an App Lock that can be used to further secure particular apps. Locking the app behind a password or PIN ensures that it can only be launched by authorized users.
All things considered, the TotalAV mobile app provides a wide variety of useful tools while remaining easy to operate.
HOW DID WE CHOOSE TOTALAV AS OUR #1 AV SOFTWARE FOR 2023?
Keep in mind that there is no such thing as a perfect antivirus program, and you should always research and weigh your options before making a final purchase. You should remember that your needs and the needs of your organization may differ from those of other people, so it's important to take your time in selecting an antivirus program.
However, you need not worry if you do not have the time to read through a million different reviews of antivirus software. TotalAV was chosen as this year's top anti-virus software after we evaluated it based on the following criteria.
• Features
• Ease of Use
• System requirements
• Performance
• Price
• Customer support
• User reviews
• Software updates
CUSTOMER SUPPORT
TotalAV has excellent customer service, and you can reach them via phone, email, or live chat at any time of day or night.
Additionally, there is a wealth of information available in the form of articles detailing various methods for keeping your computer and other gadgets safe. The Total AV app and detailed instructions on how to use the software are also available. You can also find answers to frequently asked questions in a special section.
There was no waiting list when we tried out the live chat option. It only took about a minute before a support rep showed up. He was helpful and polite. If your question is something the support agent is familiar with, they will respond quickly. If your question is more technical, a representative will transfer you to the appropriate group. Or else, the representative will need a few minutes to pass on your inquiry and get back to you.
In addition, the company has dedicated phone numbers for each country for their support channel in the following locations:
• United States
• Australia
• Canada
• United Kingdom
• Germany
• Spain
• France
If you don't live in these countries, you can find phone numbers under "Europe" and "International."
THE BOTTOM LINE:
Overall, TotalAV is a high-quality cybersecurity solution that won't break the bank after the first year. Its real-time and web protection, along with VPN privacy protection and a firewall, provide multilayered protection that thwarts virtually all threats. While some competing antivirus suites may provide additional security features, such as file encryption, webcam protection, or anti-keylogging software, TotalAV offers more than enough to justify its price. Having access to useful mobile apps at no additional cost is also a significant plus.
FAQHow do I install TotalAV?
Installing TotalAV is easy. Simply download the installation file from the TotalAV website and run it on your computer. The setup wizard will guide you through the installation process.
Is total AV legit?
After testing the software for our Total AV antivirus review, we can confirm that it is legitimate. We are aware that in the past there have been pricing issues and a somewhat hidden auto-renewal policy that has angered some customers. However, the majority of these issues have been resolved, and you will be aware of when it is time to renew and how much the next year will cost. Also, you can easily cancel your subscription online to avoid renewal.
Can I use TotalAV along with another security program?
It's generally not recommended to use multiple antivirus programs on the same computer, as they can interfere with each other and potentially cause conflicts or errors. This is because antivirus programs use similar methods to scan and protect your computer, and running multiple programs can lead to performance issues and false positive detections. If you're currently using another antivirus program and want to switch to TotalAV, it's important to first fully uninstall the other program to avoid any conflicts. Once you've done that, you can then install TotalAV and use it as your primary antivirus solution.
Will it make my computer run slower?
No, TotalAV is made to work quickly and well without slowing down your system. TotalAV also uses few system resources, so you can use your computer as usual while it is running in the background.
Can I try TotalAV for free?
Yes, when you download the free version of TotalAV, you can start a free trial that lets you try out the full version of the software. Most of the features in this article, like real-time security and tools to improve your system, will be available to you for free. After 7 days, the free trial is over. But if you want to try TotalAV for a longer time to make sure it's the right antivirus software for you, you can buy the full version and get your money back in full if you change your mind within 30 days. I used the guarantee, and I got my money back in just 24 hours.
Does TotalAV offer plans for families?
Nope, but you can add family members to your subscription by having them sign up for their own individual accounts after you've paid for yours. Keep in mind, however, that the number of devices covered by your subscription will still include those of your loved ones.
Can I trust Total AV?
Yes, the software package Total AV is secure and reliable. When conducting our Total AV review, we used the software on a Windows 10 PC and an Android smartphone without any issues or noticeably slow performance. Users of iOS and Mac report having a similar experience. TotalAV has a 100% malware protection rate on malware that is older than four weeks, according to independent tests from companies like AV Labs, and a detection rate of just over 99.8% for new viruses.